JUTA TAKAHASHI OFFICIAL WEBSITE
Juta Takahashi: Across the Flow (LR001)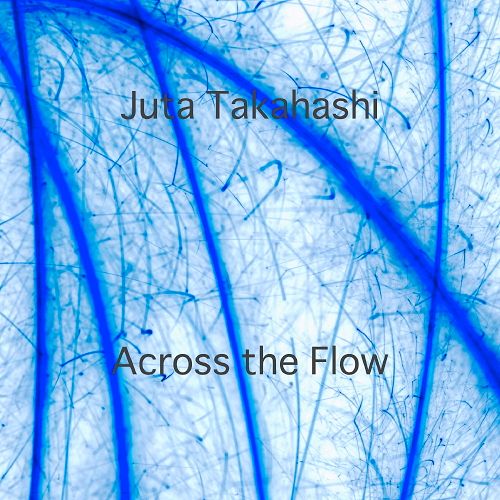 Electronic ambient music in peace from Japan. 
All tracks have pleasant sounds by analog synthesizers. 
The first album of Juta Takahashi contains following three tunes. 
1. Across the Flow (14'54") 
Fly high on the wind. 
2. Synthetic Rainbox (17'16") 
Synthetic rainsong with Moog thunder. 
3. Evensong (20'50") 
An evening soundscape.
This work is dedicated to Kyo Takahashi.

Released on August 1, 2007.

Review by Bert Strolenberg at Sonic Immersion (August 12, 2013):
What I got here is the debut album by Japanese ambient composer Juta(ro) Takahashi, who only applies analogue synthesizers.

The three lengthy pieces found "Across the Flow" come down to smooth soaring and drifting textures and some piano on the opening (title) track. This freeform music carries on in a minimal, serene style, while maintaining a lush, transparent sound design. The 17-minute "Synthetic Rainbox" floats along as well, but also contains a solo voice showing up occasionally that gets a bit too prominent in the track's second half. On "Evensong", wide and overall lush spaces take off, with improvised solos (that again could have sounded a tad warmer) hovering over it. It lasts a bit too long though and, combined with the minimal sound design, left a sort of weary feel.

Still, "Across the Flow" as a whole is not a bad effort for a debut, just lacking some compositional structure along being rather edgy when it comes to mastering and production.
Review by admireART at PROG ARCHIVES (October 26, 2015):

Juta Takahashi's, 2007, Across the Flow portrays 3 slow paced compositions well suited for relaxation. Gliding through "Kitaroesque" plucking strings or "moogesque" lines which construct the ethereal melodies inside the sweet flowing environmental soundscapes.

Its musical idiom does not fall far from New Age like friendliness and unobstructive ambient music canons. I am not a real follower of this kind of "New Age" styling, their costumary closeness to pretty momentums of exaltation, kind of overflows my body with coats of honey, which I organically repeal. Takahashi's "flow", flows into those realms of high pitched sweetness, a bit too much, yet his melody lines are quiet attractive and kind of distract my attention from time to time from all this sugar.

Music wise, to be honest, I would not distinguish most of its charms from a thousand others New Age's artists. Its progressive electronic side relies mostly in its solo melody lines more than in their flowing backdrops and moods.

If.... unobtrusive and kind of anonymous, slow paced, a bit proggy darkness shaded sometimes, unorthodox meditative music turns you on, well this one is for you!

Best track- "Synthetic Rainbox", which lacks its siblings' sugarly overcoats in favor of highly creative controlled electronic experimentations. Sure wish the other two compositions sounded as great as this one.

***3 PA stars.
Customer Review (by J.F. Sebastian) on CD Baby Page:
Soaring, serene and nostalgic
Soaring, serene and nostalgic. I am sure that this work is not a programmed music. There are contrapuntal harmonies made from improvised melodies. "Evensong" reminds me of Fripp & Eno's "Evening Star". Fine ambient work.
"Across the Flow" is available to purchase physically as part of "Triad", a USB memory stick release.

The original physical release (CD-R) is sold out. There is no plan for CD-DA reissue at present.
You can buy this album digitally at bandcamp,

Store and

.

Only at bandcamp, 'Across the Flow' is available to purchase digitally as the 2018 remixed & newly recorded version for "Triad".