JUTA TAKAHASHI OFFICIAL WEBSITE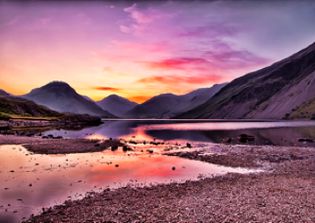 The photograph, "Serenity", for Albion album jacket has been used by kind permission of Simon Evans aka Capturing-the-Light, a first-rate nature photographer. Though he is British, I hear he lives in New Zealand now. He took the beautiful photo while he was in Britain. The lake in the photo is Wastwater Lake, in the Wasdale Valley, in Cumbria, England.

Since I tried to express the beauty of Britain this time and the album includes 'Shining Valley' and 'Summits' tracks, I started thinking I wanted to use "Serenity", which I found on deviantArt, as the album jacket. You know that has been realized.

Please visit his deviantART page and you'll find more stunning nature photographs.