JUTA TAKAHASHI OFFICIAL WEBSITE
Juta Takahashi: The Door into Winter (LR013)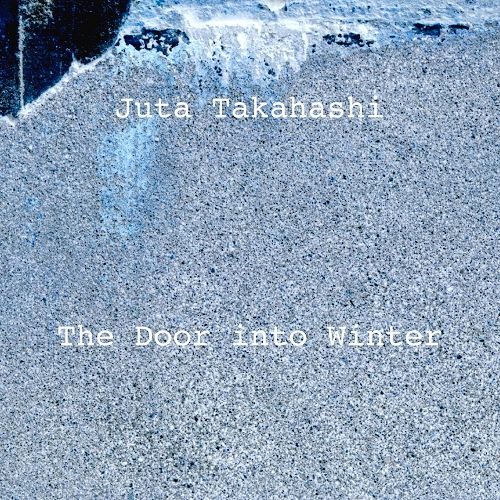 Beautiful, contemplative and silent ambient music by impressive analog synthesizer sounds. 
The second album of Juta Takahashi contains following three tunes. 
1. Northern Horizon (12'56") 
'Northern Horizon' pictures a winter seascape. You are standing on a northern seashore, watching an icy silver sky and flashes of lightning above the horizon. 
2. Enlightenment (13'24") 
'Enlightenment' brings you to the East. You are lost in contemplation there and then spiritually awakened. 
3. The Door into Winter (21'18") 
'The Door into Winter' is open. You see silent and eternal winter through it and step in.
This work is dedicated to Rika Takahashi.

Originally released on December 12, 2007 and remastered in 2014-15.
Remastered "The Door into Winter" has got selected as one of Monthly Top 20 Albums for March, 2015, for April, 2015, and for June, 2015 at Galactic Travels.

Review by Bert Strolenberg at Sonic Immersion (September 19, 2013):

For his second release, Juta Takahashi chose a winter-theme which is expressed through three lengthy tracks. Its freeform soundscape ambient without a chilling effect though, as Mr Takahashi uses warm flowing pads in his quite minimal-oriented music.

There's a sense of stillness and balance embedded in these lush textures that give the outcome a bit of a meditative character. This feel is especially present on the second piece "Enlightenment" and the 20-minute title track, both featuring slow morphing synth washes as the flight unfolds. As well as on his debut, there's still some work on the mastering and production side.

The physical version of this album is sold out, but one can still get the music as download from e.g. cdbaby.
Review by Richard Gürtler (April 19, 2015):

It seems like Japanese drifter Juta "Jutaro" Takahashi took a little break during 2014 as his previous CD, remastered edition of "Seabound" album, was released during April 2013. "The Door Into Winter", which is out since the beginning of March 2015, is another chapter in Juta Takahashi's series of his reissued/remastered albums. This album was originally released as a CDr, back in 2007 as his second album. Even if I am quite familiar with the discography of this respected dronescaper, I didn't have any chance to explore the original edition, so I am really excited to unlock "The Door Into Winter" even if the winter time is gone in the Northern Hemispheres. As usual for each release of Juta Takahashi on his own Lunisolar Records, a glass mastered CD is packaged in jewel case with elegant artwork and additional liner notes.

"Northern Horizon", the opening piece clocks to 13 minutes and instantly transports the listener into stunningly expansive panoramas, thus the title couldn't have been any better. Magnificently monochromatic drone securely rides above hauntingly evocative layer, balmily undulating and continuously counterpointed with distinguishly piercing blankets, always holding the insignias of this crafted soundsculptor. Maybe I repeat this quite often, when reviewing Juta Takahashi's albums, but every time I am enthralled, how he is constantly able to carve all those gorgeously immersing disruptive sheets and then masterfully mingle them with mesmerizingly surrounding flatlined and barren vistas. "Northern Horizon" is definitely a great example of this wizardry, it's utterly harmonious and spaciously engrossing mindscape, I feel like I am listening to some long-form composition, eternally lasting. Well-shaped, Juta!!! The next piece, "Enlightenment", is only slightly longer, remains on the same static route, but this time conjugated with tinkling contemplativeness and celestial choir-like drones, while weeping fragments occur here and there along with sparse warm cinematic glimpses. The listener calmly walks through torii gates to approach an entrance to a shrine. Graciously sublime journey!!! 21-plus minutes long title and closing composition "The Door Into Winter" delves into dazzlingly enigmatic terrains, bridging tranquilly reverberating movements with pleasantly sneaking dissonant subtleties and occasional meditative sounds of singing bowls or suzu gongs. Floating, meandering and cascading through stunningly spectacular wintery sceneries with sunshine permeating through the morning mist. A truly exquisite driftscape navigates the journey into its undesired conclusion. Bravo, Maestro!!!

Juta Takahashi fully unfolds his dronescaping analog magic on "The Door Into Winter", it certainly would be a shame not having this little gem on remastered and reissued CD format. With "The Door Into Winter", "Seabound" and "Quiet Rain", now only the first "Across The Flow" (2007), third "Remembrance" (2008) and fourth "Moonlit Flowers" (2008) remain as unreleased albums in remastered editions. Few years ago, around 2012, when I have explored the soundworlds of Juta Takahashi for the first time through his 8th album "Silence", I thought his older albums maybe might be more lighter, less droney, but now, after experiencing above three albums, I know how wrong I was. So with this in my mind, I really hope Juta Takahashi will continue on reissuing his older albums along with releasing his new recordings. By the way, if you prefer digital formats, then don't miss the latest collaborative release entitled "Liebesträume", featuring Juta Takahashi's ambientscapes crossed with readings of poetry and prose by Rebekkah Hilgraves, the host of At Water's Edge radio show on StillStream.com. It was released only few days ago. All in all, the entire discography of Juta Takahashi gets my highest recommendation for all drone ambient aesthetes!!!
Review by Sylvain Lupari at Synth&Sequences (April 20, 2015):

"The Door into Winter is an album of atmospheres and of purely ambient music"

An enveloping synth wave rises up from the imaginary plains of the country of serenity, such as depicted in sounds and music by Jutaro Takahashi. It scatters particles of prisms and subdivides the flanks of its peace of mind with other more musical waves which blow throughout a horn of plenty, clasping the peaceful chants of celestial birds in long corridors of cold lined by the incandescent heat of some more piercing waves. The heap of the synth lines and their fights between brightness and nebulosity inject a sibylline aura which floats like an immense aerial magma. Navigating, and this is always free to our imagination, between the borders of the cold as well as those which line the heat with soothing Siberian breaths, "Northern Horizon" invites us in this other meditative romance of Juta Takahashi.
"The Door into Winter (Remastered)" is the 3rd album from the Japanese sculptor of meditative landscapes to see the light of the day beneath the skin of a completely new remasterised edition made by Takahashi in his studios of Sendai, in Japan. Offered in a very stylized jewel case and a pretty nice artwork which includes some personal notes for each of three tracks, "The Door into Winter" was originally the 2nd album of the composer of ambient music and, contrary to its title, the music offers a sonic and musical perspective closer to the warm horizons of the South than those of the North. Lines and idle waves of synths are rich and very enveloping. Only the long whistling drones manage to throw a hearing sensation of coldness which is quickly retrieve by analog elements, like in "Enlightenment" where the orchestrations, the celestial voices and those calm Tibetan bells irradiate over the very static storm of the hummings and over its Siberian winds. If we force our imagination, we can be in the plains of Mongolia where the coldness of the winter is still eating away at the weaknesses of the spring. But no matter what, we are in the field of very ambient music. There is no form of rhythm and the ambient elements are sculptured in the vision of a composer who wants at any cost to make of his works some pure meditative soundscapes and who, according to my ears and my moods, seems to have loved the approach of ambient Tibetan music of Ray Lynch in his sublime and very pensive The Sky of Mind, realized in 1983.... Except that on "The Door into Winter" there is no New Age ballads, nor relaxing melodies. Just ambient music and music for quiescent moods. We are close to a musical sleeping drug. And if we let the music pour all around our loudspeakers on an evening of tranquility, the sleep will be fast your gaoler. The title-track offers a full 23 minutes lulled with a warmer approach, even if certain synth lines try to inject some iodized perfumes here and there. It's very quiet and at the same time bewitching because we always have this sensation, and it doubtless because of these small snores which sleep here and there, that the track is going to amplify its quest so many elements of tension are slumbering here, as in the calmest of the winters. But it's rather these fluty breezes, these arcs and these reverberations filled of hummings and of acidified snores which transport the serenity of "The Door into Winter" up to the doors of the guardian of our sleep.
Beautiful and very quiet but especially very linear where nothing really is going on, "The Door into Winter (Remastered)" is an album of atmospheres and of purely ambient music. I know little about the universe of Juta Takahashi, set apart his last albums. Thus it's impossible to me to compare both versions of this album which was initially offered in a CD-r recording. But no matter, "The Door into Winter" doesn't reach this depth still which has stigmatized the style of Juta Takahashi in his solid Seabound, also remasterised and which went out two years after. But it's rather interesting to see the evolution, because there is one, of the Japanese musician who will reach his peak with the magnificent monument of ambient music that was Transcendence. So it's a beautiful album, without more, for those who like the genre. But is it an inescapable for those who love the deep ambient style of Juta Takahashi? Like I said; I'm not a connoisseur of Juta but I surely like to hear his music when sleep is hardly reaching my brain on certain nights. In my mind, there is Steve Roach and Juta Takahashi!
Customer Review (by BOOTIS) at eMusic:

captures perfectly the feeling of winter

Takahashi-san makes ambient music using analog instruments, which stands out in today's digital dominated ambient scene. This gives his albums a unique touch. His use of analog to create pads of drifts is what has always attracted me to his music, I think it sounds fantastic the way he does it. 'The Door into Winter' is more restrained with the pads than in the previous albums, no doubt to meet Takahashi's image of winter. As a result the music is more focused in a way, compared to his previous albums, and it also feels more minimalistic. Most importantly perhaps, 'The Door into Winter' captures perfectly the feeling of winter: the sunlight glittering on soft pillow-like snow, grand vistas of snowy frozen "deserts", the dancing flow of wind over snowy ground. I thoroughly enjoyed this album, I was immersed by it. Although more quiet and minimalistic than his previous albums it still bears his unique style of ambient.
Customer Review (by Gay Ellis) on CD Baby Page:
Beautiful sound of silence
The music is filled with beautiful sound of silence. Though all tunes make me feel winter, they strangely also make me warm and relieve. It became the supreme seasonal gift. Thanks.
"The Door into Winter" is currently available as factory-pressed (glassmastered) CD which consists of remastered tracks.
Original release (LR002): CD-R (officially sold out)
Reissue (LR013): CD-DA (available)
You can buy this album from our store, bandcamp,

Store and

.