JUTA TAKAHASHI OFFICIAL WEBSITE
Juta Takahashi: Gems (LR019)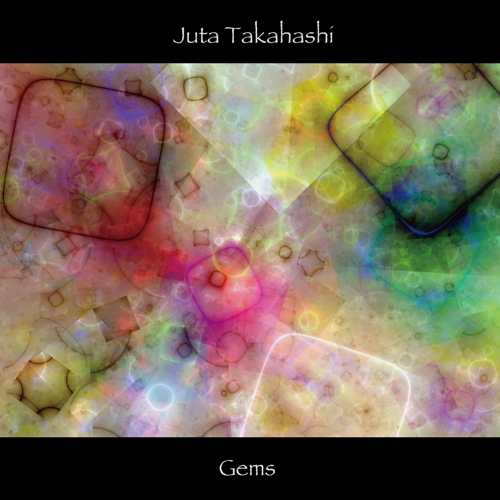 A collection of gems that were contributed to albums from various labels

The sixteenth album of Juta Takahashi, "Gems", has been released in January, 2021. This release is a collection of Juta Takahashi tracks that were contributed to albums from various labels, except for the last track, 'Heaven'. 'Heaven' is a previously unreleased track, but it was produced about a decade ago. For some reason, it couldn't see the light for a long time.


1. Departure (7:58)
Originally released on "Beyond the Border" from Ultima Thule
2. Dreams within Dreams (19:12)
Originally released on "Liebesträume" from RadHaus
3. Night Blooms (12:16)
Originally released on "Dusk Transmission" from Moody Drones
4. Theophany (6:38)
Originally released on "tʌntrə" from Neotantra
5. Arctic Echoes (9:38)
Originally released on "MELT" from Wayfarer Records
6. Heaven (7:54)

 
Composed, arranged, produced and performed by Juta Takahashi
Recorded and mastered at Lunisolar Studio, Sendai, Japan
The digital artwork, "PA no 2", for the album jacket by krigl
Juta Takahashi dedicates 'Heaven' to those who lost their lives in the Great East Japan Earthquake of March 11, 2011.
Released on January 6, 2021
"Gems" has got selected as one of May 2021 Top 25 STAR'S END Releases.
Review by Bert Strolenberg on Sonic Immersion (June 7, 2021):

Through the years, Juta Takahashi composed various tracks that appeared on compilation albums from various labels. These all -with the exception of the last track- have now been compiled on the 63-minute "Gems".

The six emotive pieces feel like a warm bath due to the overall spatial sound as well as the presence of rich-colored, vibrant textures and pads. Opener "Departure" already spreads a lovely sense of soft mourning and grace shining through its gentle piano and smooth building soundscapes, thereafter taking on a calm flight through fluid-atmospheric as well as cosmic realms on the 19-minute "Dreams within Dreams". The dreamful, intrinsic calm continues on the gentle "Night Blooms" while evolving drone tapestries make up the minimalist "Theophany". "Arctic Echoes" offers pleasantly soaring textures, followed by the wondrous celestial spheres of the highly emotive "Heaven", a track dedicated to all victims of Japan's great earthquake who fly with the angels now. Here, the sense of remembrance is felt clearly.
Review by Sylvain Lupari on Synth&Sequences (July 13, 2021):

"The music is very intuitive and sticks perfectly to our emotions"

I've been listening to Juta Takahashi for years and each time I'm surprised by the impact of his music on my reflections. GEMS is the title of this selection of 5 musical collections scattered on as many compilations, Heaven being an unreleased track, in the last 6 years from the Japanese EM bard. The music is very intuitive and sticks perfectly to our emotions which follow the colors of its ambiences sometimes dark and sometimes bright according to the various themes approached by these compilations.
Departure is part of this mega collection entitled Beyond The Border from the Australian label Ultima Thule. It's a nostalgic piano that puts down this very poetic title in our imagination. Minimalist, its melodious scheme is of an infinite tenderness with notes that resonate on a bed of bluish reverberations. A violin ties its prose, adding a melancholic ambience on its stretched-out cries. And always, this piano... of which one loses its affection when these banks of mist of a greedy synth smothers a clearness which remains nevertheless impregnated in the apathetic heaviness of Departure's last moments. Dreams within Dreams is a typical track of Juta Takahashi's repertoire. The Japanese musician conceives his music with a heap of synth layers that he piles on a long sound vessel whose design equals the scope of its time. It's dark ambient music with translucent tadpoles that feed on its implosive movements. The music is linear and lives of these dull implosions where hang these strange inexplicable murmurs to its texture. One lets oneself go and floats in this long title having been part of a collaboration with Rebekkah Hilgraves who reads poems on the music of JT. The digital album is called Liebesträume and is available on the Radhaus label. Night Blooms comes from the Dusk Transmission compilation on Moody Drones label. We can expect the music to be composed from the reverberating effects of dark synth waves. This is half true, as Juta soaks the core of it with wandering rainbow-colored hoops, minimalist piano notes and a layer of vocals from an astral choir. This is the track that gains the most to be discover in this GEMS.
Juta Takahashi's adventure on Neotantra has opened even more doors to him in this fascinating Dark Ambient universe that has more fans than one can imagine. Theophany is part of the tʌntrə compilation and is typical of those masses of reverb that become igneous by this passion for heavy movements in ambient EM. Its short time span, however, does not give JT the chance to exploit it to its fullest. And this is very noticeable in Arctic Echoes which comes from the impressive compilation album MELT found on Wayfarer Records. On this track, Juta exploits the iridescent side of the panoramic visions of the oceans. You can literally feel the ice moaning and melting inside the 10 minutes of this track which exploits, which is rare in JT's music, a Japanese tribal side with an acoustic instrument. The synth layers here are absolutely amazing. Heaven is an unreleased track that is dedicated to the survivors of the huge earthquake that shattered the East Coast of Japan in 2011. A track shared between pain and hope with a delicate and sensitive approach that should reach us all. Because we have all experienced a tragedy somewhere!
GEMS is a superb collection of ambient music composed to make us aware of the chances obtained during the pandemic. At the same time tender and robust, the music proposed follows the past and future disasters in a musical envelope where serenity, except for Theophany which is based on the concept of actual music, is intimately linked to the melancholy of Juta Takahashi.
"Gems" is available as both factory pressed (glass mastered) CD, limited to 100 copies, and digital download.
You can't purchase this album anywhere except our official store and bandcamp. No other music distribution service is available.