JUTA TAKAHASHI OFFICIAL WEBSITE
Juta Takahashi: Angel (LR009)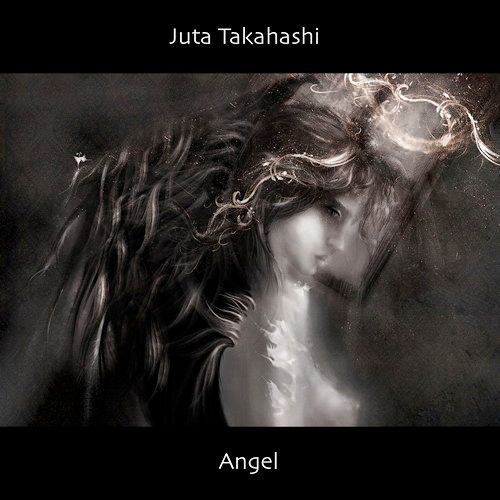 Ambient music of extreme beauty, made with synthesizers, acoustic instruments, and voice.
The ninth album of Juta Takahashi consists of following four long-form ambient tracks. 
1. Bright Waters (17:02) 
2. Fairy's Blues (15:34) 
3. Angel (16:14) 
4. Fair Wind (16:02) 
The digital artwork, "Angel", for the album jacket by smokepaint.
Released on July 16, 2012.
"Angel" has got selected as one of August 2012 Top 10 STAR'S END Releases.

"Angel" has got selected as one of Significant Releases of 2012 at STAR'S END.
Review by Bert Strolenberg at Sonic Immersion (July 31, 2012): 
After a hiatus of nearly two years, Japanese composer brings us his ninth album "Angel". The recording is a 65-minute soundscape journey spread out over four lenghty tracks that once again moves through immersive, contemplative sonic territory.

Here, things are at ease and in balance, with slow morphing and smoothly cascading textures. The elements float and drift on all four pieces as they easily spread their calming perfume to emotional effect.
A special note goes out to the velvet voice patches that Juta has incorporated in "Fairy's Blues", which makes the outcome rise up to celestial realms. On the 16-minute title track, a more pronounced and building set of minimal soundscapes is presented.
Despite its strong new-age undercurrent, I think the overall relaxing "Angel" surpasses Juta's previous releases, that were already well-done albums.
Review by John Shanahan at Hypnagogue (August 8, 2012):
In March 2011, Juta Takahashi's home and home studio were badly damaged by the earthquake which resulted in the horrible tsunami that devastated Northern Japan. (Living in a hilly area, he was spared the ravages of the water.) In an e-mail to me at the time he said he wasn't sure how long it would be before he made music again. Blessedly, just over a year later he's back with four long-form ambient pieces on Angel. It seems like there are two sides to Angel; one offers Eno-like structures where long-drawn pads coast like patient clouds, touched with an intermittent and more tactile element and the other is made of bigger, amorphous, drone-based structures. On the opening track, "Bright Waters," Takahashi mixes piano into the flow, single, meaningful notes dropping like early rain on a pond, spattering lightly against electronic sparkle and rising pads. There's a nice undertone of drone at work here. "Fairy's Blues" also floats dreamily along, its wispy pads accented early on with a vocal sample that's a very nice touch. This is the softest piece here, bringing mental references to Eno in the calm and dreamy simplicity of its movement.  The other two tracks are more drone/pad-based ambient pieces, deep washes of densely stratified sound. I must say that I had some difficulty getting into the title track. Takahashi's layers here are very crisp and very high–but, at times, high almost to the point of being grating. A sound like a rainstick held too close to a microphone runs through it like static. To be fair, this may be more of an issue when listening in headphones, or at too high a volume. In a quieter, distanced listen the effect was softened somewhat, but there were still places where an air of dissonance took me out of the flow. By the same token, there where also points where I also found myself drifting pleasantly along–so much so that I checked iTunes wondering if I'd changed tracks. I hadn't. Over repeat listens, the track has grown on me, but it's my least favorite of the quartet. "Fair Winds," which ends the journey, begins as a long, swirling gathering of dopplering drones. Takahashi smooths it out over time, converting it into a hushed, almost hymn-like tone. A church bell peals in the midst of the flow, its voice clear and reverential. 
Angel is an excellent deep listen. Takahashi is extremely detail-oriented in his work. He finds full purpose in the smallest sounds, and it's pleasing to give these subtleties your full attention. The long format gives the listener plenty of time to find their way all the way down into the sound. I've always found that Takahashi's work conveys a lot of true emotional content. It has a soul-stirring quality to it, but he accomplishes this gently, coaxing the response from his listener with sustained, deep-reaching feeling. Angel is another beautiful work from a talented ambient craftsman. 
Available from Lunisolar Records.
Review by Richard Gürtler (August 18, 2012):

"Angel" is a brand new sonic journey by Japanese ambient drifter Jutaro "Juta" Takahashi, released in July 2012 on his own Lunisolar Records as his 9th album. Between Juta's previous album "Silence" and the newest "Angel" passed about 19 months, but while living in Sendai, Miyagi prefecture, Juta had to experience during this period also a catastrophic earthquake with destructive tsunami at March 11th, 2011, which damaged coastal part of Sendai region. Fortunately, although suffering some material damages, by living in hilly part of Sendai, Juta and his family stayed relatively safe against the tsunami waves rushing into the coast. Now, we are happy to be able to explore the next chapter of his harmoniously tranquil atmospheres. But first, we are confronted with absolutely gorgeous front cover artwork by Russian artist Polina Yakovleva aka Smokepaint. Does this image indicate a more lighter or celestial feel of its musical content? "Bright Waters" strike immediately with purely gracious soundscape, where tranquilly drifting heavier drones are masterfully coupled here and there with fragile piano tunes. Progressing and cascading deep drones and piano parts are stunningly balanced and beautifully interacting. I won't hesitate to write this is the best piece Juta has ever composed. 17 minutes of deeply absorbing sonic sublimity!!! "Fairy's Blues", a 15 and half minutes long piece, is invaded by celestial washes, it glides and coils smoothly through dreamlike distant realms nicely enhanced by angelic voice-like sounds. The title composition "Angel" clocks over 16-minute mark and unveils with more active drones, ranging from rather denser to more discordant passages, but also from immensely drifting to angelic appearance. It's not easy to fully enjoy "Angel" at first listening, due to its more disturbing sound palette, but every repeated session will be more rewarding. 16-minute long "Fair Wind" is sculpted with expansive space washes, floating through gradually evolving stages and reaching more monumental and tense movements, occasionally lightened by delicate bell tinkles and precisely bridged with rather quieter, more mesmerizing blankets. These ever-changing high-pitched sonic panoramas provide a very nice conclusion of this album. "Angel" with its aural and emotional miracles paints wonderfully profound images, ready to transfer the listener to new magnificent spheres. Welcome back, Juta, and keep on drifting!!!
Review by Sylvain Lupari at Synth&Sequences (October 1, 2012):

"Even if extremely quiet and pensive, Angel remains not less a heart-rending album where the Japanese composer roars his sufferings through his deep ambient EM"
Victim of the tsunami that struck the North of Japan in 2011, Juta Takahashi had to reconstruct his home and studio from A to Z. Peaceful and meditative man, this outburst of nature profoundly seems to have shattered, who wouldn't be, the Japanese composer who offers in "Angel" an album that has two phases. If the first part recaptures the soft seraphic movements of his previous albums, the second one plunges us into apocalyptic ambiences which betray the internal anger and the powerlessness of Juta Takahashi. An album of decline and revival moulded on resiliency, "Angel" is the shout of a moving tearing of an inner peace.
Fine sound particles are irradiating the opening of "Bright Waters" which wakes up with all the luminosity of synth rays laminated by shimmering waves. The ambience is dark and tinted of a deep melancholy that delicate piano notes, falling with all the hesitation of the dark desires, perfume of a wonderful astral aura. The synth layers are deliciously morphic and spread their mist like big dark clouds which hide the iridescences of a rainbow dying of patience to be watered by a single note of this meditative piano. A note of which the impact splashes the silence of shadows which are slowly turning into a strange foggy choir with delicate dark breaths. "Bright Waters" is a wonderful music piece which has its place for nights of insomnia. It's in my Ipod, into the nights of calmness folder with lot of other music by Juta. "Fairy's Blues" is more luminous and begins with waves of synth which mix its breaths of sharp metal, its blue mists and its silvered voices into a powerful meditative symbiosis. The movement is slow and less musical than "Bright Waters" with more acuteness drones which are transformed into a spectral choir from which the metallic breaths are covering gongs and chords lost in forgetting. The synth breezes which get accumulate as waves swirling on themselves are opening the weird title-track which bubbles in a powerful endless maelstrom. There is something intensely seraphic in "Angel" which tears the hearing like torrents of mud tore lives. It's a rangy torrent of iridescent prisms where the fury is intense and repressed in strata with tears of powerlessness which flow like magmatic cries of rage. This long and intense amorphous movement becomes intensified in a long atonal crescendo where the anger of Juta Takahashi flows with all the fury of the hopelessness of a man forced to the acceptance. It's intense, deeply moving and rather heart-rending, and this for the hearing and emotions. Like a sunset with golden beams sweeping a destroyed land full of dust "Fair Wind" widens its rays, freeing a prismatic heat with layers which interlace in a lascivious dance of times. Celestial and apocalyptic, these layers draw elongated soporific movements in tones as much coldly as lyrical, balancing an enchanting paradox which fans itself around redemptive bells.
This 9th opus of Juta Takahashi exudes the emotional duality that tears an author who always approached life with all the magnificence offered in a meditative feast. Even if extremely quiet and pensive, "Angel" remains not less a heart-rending album where the Japanese composer roars his sufferings through layers of synth in tints of ochred sulfur. It's intense and by moments very poignant but it always remains so profoundly lyrical, as music weaved in the horns of the god Aeolus.
Review by Terry Wickham at MantaRay Pictures (October 7, 2012):

Angel is Juta Takahashi's first release since the huge earthquake struck northeast Japan on March 11, 2011.  Sixteen months after that fateful day, Takahashi is releasing his ninth CD after getting support from his friends and fans.

Takahashi says he's been thinking about the Angel themed music for about 30 years, since he first listened to "The Angel" by Francis Monkman.  He goes on to say he created Angel from his imagination going beyond religion and culture.

This sixty-five minute CD begins with the longest track "Bright Waters" (17:02).  Dark ambient bottom is highlighted with pretty piano notes that splash almost randomly across the song.  It's deep, beautiful and conveys great sensitivity, Takahashi takes considerable care on when he embellishes the cue and when no to.  This is mature approach for an artist who values space as much as the pitch and duration of a musical sound.

The keyboard tone of "Fairy's Blues" (15:34) has almost a religious organ quality.  It sparks the mind to go within and to think of what's important this very moment.  The way in which the frequency of sound shifts from the main keyboard line against the dark backdrop, reminds me of John Carpenter's score for CHRISTINE.  There is a somber reverence to this second offering.

The title track "Angel" is a celestial cue featuring bright notation and sounds that glisten from the upper registry.  There's an added feel of nature at work.  This compensation also gives the sensation of taking flight (moving upwards).

The last track "Fair Wind" (16:02) is kind of a continuation of the previous track, as you are uplifted into the heavens and surrounded by white musical light.

I would assume that the power of the earthquake and the resulting tsunami Takahashi experienced is reflected in his music.  I don't mean the actual natural disaster but rather the aftershock of its reverberations and how it affected his homeland and his people since that destructive day.

Review by Koos van Wijngaarden at EMPortal (October 7, 2012):

A few months after the release of the superb CD "Silence" it was obvious that it could take a 'while' before Juta Takahashi would be able to present a successor of what in 2010 in a certain way could be considered the 'prophecy' of a disaster that would struck Japan in March of the year that followed. It is a small miracle that the 'man from Japan' delivered us his newest production only 16 months after nature's force changed the lives of the many japanese who suffered from the consequences.

Takahashi is back and he has surprised me again: full force and a continuation of the beautiful "Silence" album.

A brief description of the 4 long pieces:

"Bright Waters"

The first 17 minutes enable the listener to hear, I would say almost feel the 'force of nature', an excellently recorded sound experience that (in my case) produces positivity and total relaxation; timeless beauty and in a certain way purification: a treat for the 'body' triggering spatial 'visuals' for the mind.

"Fairy's Blues"

Sonic waves 'visualize' the music in such a way that you have the feeling to catch the 'echoes of what once started and yet ends'. It gives this track a melancholical flow; an abstract but emotional goodbye to what once 'was'.............

"Angel"

The title track of Takahashi's ninth Album and one of the musical jewels. A waterfall of sound reveals the beauty of the Angel. It is hard to put it into words but I would say having had the experience to 'meet' was the inspiration for Takahashi to compose and realize this album. Effective and impressive!

Quoting J. Takahashi "I've made a sound which I might hear when I meet an angel. I thought it should have not been heavenly, but supernatural and highly divine. I didn't intend to make it comfortable. The result is "Angel"

"Fair Wind"

My favourite track and a modern "Also sprach Zarathustra". The floating wind all around combined with the 'tubular bells' makes it an ultimate 'electronic immersion' Using headphones will allow you to 'breathe' this brilliant piece of music.

After long and extensive listening sessions I can easily conclude: Juta Takahashi 'met' and made an Angel.

"Happiness is only real when you can share it"

85/100

Customer Review (by M. J Roberti) at Amazon.com (September 14, 2014):
 
Five Stars
 
Awesome ambient space music. Period. I mean, seriously. You can't go wrong.

"Angel" is currently available as factory-pressed (glassmastered) CD.
You can buy this album at our store, bandcamp,

Store and

.