JUTA TAKAHASHI OFFICIAL WEBSITE
Juta Takahashi: Transcendence (LR012)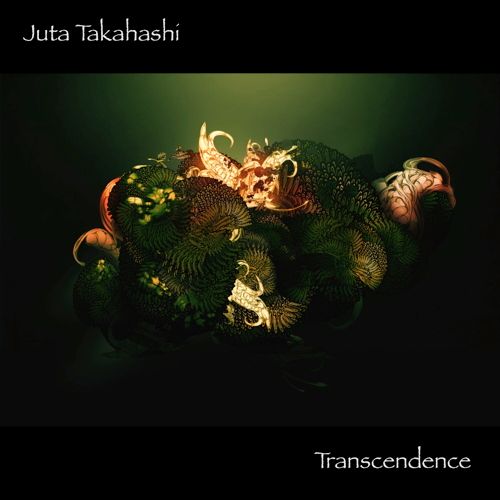 Beautiful and exotic ambient music that's made with synthesizers and ethnic instruments.

The tenth album of Juta Takahashi consists of following four long-form ambient tracks.


1. Higurashi (16:22)

2. Nirvana Électronique (16:24)

3. Maitrī (16:02)

4. Transcendence (16:58)

 
The digital artwork, "The Garden of Eden", for the album jacket by Nicolas Monin-Baroille aka TheUnknownBeing.
Released on September 21, 2013.
Track descriptions by Juta Takahashi:
Higurashi - Higurashi is one of the most common cicadas in Japan, whose sound tells us coming of evening in summer. I composed it getting inspirations from Gagaku, a style of Japanese classical music, and imagining a Japanese forest of late summer.

Nirvana Électronique – It's a stateless ethnic tune which leads you to liberation from desires.

Maitrī – Maitrī means mercy in Sanskrit. It's a tune for merciful Maitreya whom I have a sincere regard.

Transcendence – The album title track. My yearning for sublimation.
"Transcendence" has got selected as one of Monthly Top 20 Albums for October, 2013, for January, 2014, and for April, 2014 at Galactic Travels.
"Transcendence" has got selected as one of December 2013 Top 15 STAR'S END Releases.

"Transcendence" has got selected as one of Significant Releases of 2013 at STAR'S END.

"Transcendence" has been selected for Secret Music Top 20 Playlist March, 2014.
Review by Bert Strolenberg on Sonic Immersion (September 27, 2013):

With the tenth release of this talented Japanese musician, we enter the next level of the ethereal, expansive float zone. Once more sticking to a free form, textural outcome, Mr Takahashi brings his listeners four 16-minute tracks with drifting, exotic-spiced soundscapes along a very nice touch of analogue sounds. It all roams in the wide open in full glory.

On "Higurashi", gentle piano keys are married expertly with uplifting, almost heavenly pads, bringing the beauty and immersion of the celestial outdoors almost in reach, while a hypnotzing sitar-drone and lush flute make up "Nirvana Électronique". Pure stillness reigns on the highly meditative "Maitrī".

The concluding title track feels like coming home and closing the circle, featuring a warm blanket of sun rays shining through the clouds. This very well produced and mastered 66-minute outcome has a profound calming and contemplative effect, easily deserving a four star rating.

Any fan of intrinsic, evocative ambient music is gonna love this. Chapeau, Jutaro!
Review by Sylvain Lupari on Synth&Sequences (October 9, 2013):

"Transcendence is a great ambient opus which transcends the usual approaches of the meditative music with a more musical pattern where are fighting superb lyrical synth layers"

A mixture of voices and breezes of ether are blowing into some fine shamanic particles of which the brilliancies, discreetly jerky, open the twilights of "Higurashi". A long and sinuous lamentation of a synth with the harmonies strangely sharpened is piercing the blackness, opening the gap of a mesmerizing ambiospherical movement where dances this lament through a field of sound particles as iridescent than the morphic singings from discreet choirs. A fine line of piano loses its fragile notes here. These notes go and come. They get lost and find themselves in an intense contemplative sound broth, wandering such as the spectres of a melody defeated on a meditative battlefield.
Meditative! This is the term closer of reality to describe the 10th album of the nice Japanese esoteric bard. But those who know the music of Juta Takahashi know how much he can be precise in his quest to build a music of meditations intensely introspective. And "Transcendence" transcends the usual frontiers of ambient works by offering a clearly more musical approach. Weaving ambiences as much celestial than deeply shadowed by rushes of blurred emotions, Juta Takahashi favors a fascinating musicality which breathes through the various harmonies of the synths from which the radiances of the layers charm the translucent silences. We have the vague impression to attend at an ambient duel where the white eats away at the outlines of a black which is never completely of ebony. And this is simply exhilarating.
And we hear this on "Maitrī" which borrows a bit of the romantism of "Higurashi" by scattering crystal clear chords in a wrapping shroud of relaxation. Some dense mellotron pads, which roam everywhere throughout the four verses of "Transcendence", exhale sighs of violins which float as blue clouds in a sonic firmament constantly torn between the musicality of the dreamy violins and the cloistered hummings which spread a veil of astral blackness. There are a lot of depth and feelings into "Electronic Nirvana", a piece of music as much puzzling than mesmerizing with oblong sinuous waves of which the resonant contours, disguised like soft perfume of sitar, are winding the breaths of a synth to weeping breaths which sound like sonic ectoplasms from the Martenot waves. One eventually ends to forget the scrapes to tones of sitar to let ourselves be submerged by these very melancholic synth breezes. The title-track is the most impressive and the most musical of this last album from Juta Takahashi. We hold onto the first synth wave and we let ourselves derive throughout the winds and breaths of Orion in an intense ambiospherical magma where the singings of celestial bodies are the rustles of our reflection. It's intensely entrancing and we have this fascinating impression to float in a cosmos which grasps the oceanic depths. That is just showing that everything is inter connected in the superb universe of Juta Takahashi and whose "Transcendence" is the most imposing work to date. A wonderful album of meditative music!
Review by Richard Gürtler (October 20, 2013):

Japanese ambient sculptor Juta Takahashi has released his previous album "Angel" during the summer of 2012. Then followed two remastered reissues, released as factory-pressed CDs, "Quiet Rain" (October 2012) and "Seabound" (April 2013). Now it's time to introduce his newest album "Transcendence", which has landed at September 21st, 2013, as Juta's 10th album. As for the cover image, Juta again, as with his previous albums, presents another stunning DeviantArt(ist), this time it's Nicolas Monin-Baroille, who is acting as "The Unknown Being", a designer and illustrator based in Offenburg, Germany. Yes, the cover artwork, entitled as "The Garden of Eden", is absolutely magnificent!!!

Juta's compositions are usually longer, 3-4 tracks per album, and "Transcendence" is no exception to this rule. 4 tracks are featured, all clocking between 16 and 17 minutes in length. "Higurashi", a tribute to Japanese late summer forest, is the starting point, where heavenly washes tranquilly unfold, while cicada blankets smoothly meander throughout. Serene piano fragments, emerging here and there, are gorgeously soothing and confront with high-pitched spiraling drones. The more discomforting these drones are, the more embracing they become. Juta is the master of ambient dissonances, they are always utterly spellbinding and slowly become his identifiable trademark. This is absolute monster masterpiece, "Higurashi" could be labeled as magnum opus among Juta's compositions, bravo Maestro!!! Then follows "Nirvana Électronique" with monotonously circling sitar-like drones, flavored by occasional, distinctive flute infusions with few warmer scenic views included. The overall feel is quite exotic and especially deeply mesmerizing. "Maitrī" dives straightly into deeply contemplative, minimalistic realms captured by echoed singing bowl and fragile tinkles. Tranquilly evolving and gorgeously evocative aerial washes step in and then fade away throughout the piece. This is Juta Takahashi at his most minimal and silent, where each listener is continuously immersed by pleasantly atmospheric meditations filled with rare beauty and subtlety. A stunning composition!!! "Transcendence", the title piece, is invaded by intense ethereal expansions, floating with infinite majesty and grace, embellished by nimbly coiling hypnoscapes. Always warmly colossal and soothingly sweeping. This is a truly splendid finale, we simply couldn't ask for more to close this enthralling journey!!!

Yes, "Transcendence" is undoubtedly a new, triumphant masterwork by Juta Takahashi, showcasing again his, rather minimal, but always freshly distinguishing sound magic loaded with many, fully rewarding treasures. So get ready and dive deeply into these realms!!! I can only strongly recommend this grandiosely magnificent recording, because you will enjoy it again and again. Bravo, Juta, "Transcendence" is a must have for all connoisseurs of spectacularly drifting ambience!!!
Review by John Shanahan on Hypnagogue (March 9, 2014):
File this one under "Appropriately Titled Albums." Juta Takahashi's Transcendence will absolutely take you out of yourself and escort you to a deep and meditative place filled with gorgeous sound. Presenting four mid-range tracks (16 to 17 minutes each), Takahashi aims for maximum soul/body displacement and hits his mark. Each piece finds its own to get you there. "Higurashi" is bright and quiet, its long-arcing pads sustained in higher registers. There's something of a spacemusic feel at play, but it's more edge-of-space somehow. Soft piano notes blend with the electronics to ground the piece. "Nirvana Électronique" is, I think, my favorite piece here. It uses a drone like a tambura or harmonium to buzz and burrow its way into your head. A wavering tone falling somewhere between flute and a bowed string instrument sings intermittently. I like the way Takahashi marks the flow's passage with shimmering pads that rise up above the drone. "Maitrī" slots firmly into the spacemusic mode with crystalline pads and softly ringing chimes. Pay attention to how well Takahashi uses pauses and fades here. There is no hurrying your transcendent state; there is just these warm sounds surrounding you and the patient slowness of your breathing as you listen. The title track comes back to the bright tones of the opener and takes the listener on an easy glide on rich pads. Again, it's warm and comforting, unhurried and deeply layered. Slow-motion dynamics imbue the flow with emotion–when the sound swells, you feel it in a very real way.

I have been enjoying Juta Takahashi's music for a few years now, and I have to say that I think Transcendence finds him at his highest point yet. This is an ambient masterwork, a piece that resonates deeply within the listener and truly carves out a very personal space. It's perfect for meditation, although left to its own devices, it's likely to simply cause a meditative state to occur. I don't think there's anyway around it once you let these sounds in. This is a close-your-eyes-and-let-go album. Obviously, deep/headphone listening reaps marvelous rewards. But just let this one loop within your space and see where it takes you. I guarantee you'll go somewhere nice. A must-hear, outstanding piece of work from Juta Takahashi.
Review by Jose A. on SYNTH CARESSES (March 26, 2014):

 Time on Synth Caresses for quality ambient. Ambient in the classical sense of the term. Time for Japanese musician Juta Takahashi and his, so far, latest work, "Transcendence".

 For the making of this album Mr Takahashi blends an array of synthesisers and ethnic instruments. I must say that I love the artwork, and I also find the titles to the tracks fantastic. What you find here are relaxing drones, great sound textures and trance-inducing, mantra-like atmospheres from beginning to end. "Basically, I produce music in order to make listeners feel calm, relaxed, and comfortable. Though I objectively know that I sometimes use relatively aggressive sound, I believe it doesn't even make listeners uncomfortable with my music. However, there's no strict rule. I want to make music freely as ever."

 Juta uses both hardware and software synths. "I own an Access Virus TI2 Polar and a Yamaha Motif ES6 as hardware synth. Though I owned a Minimoog and a Korg Polysix also, the huge earthquake* made them expire. I use lots of software plug-ins as well." Juta's line of work depends on the occasion: "There's no set rule, but I improvise generally. Though I sometimes start from a given idea, the music varies impromptu. I occasionally devote myself to sound design without definite purposes. For example, I made the sitar-like drone on 'Nirvana Électronique' several years ago."
*(Juta refers to the earthquake that hit the Northeast of Japan on March 11, 2011. "I'm a resident in Sendai. Though the huge tsunami didn't reach my house fortunately, my studio and gear were damaged by the earthquake.")

 With ten albums in his catalogue he always tries to "avoid doing the same thing. So, I believe that my music changes every time I release a new album and that I grow as a musician as well."

 "Many people say that my ambient music is unique and I think my fans like its uniqueness. But I've never intended to make it unique. I've been doing only what I want to do. I'll keep myself being that I am." And Juta can certainly take pride in stating that his music has a sense of uniqueness indeed.

 The digital artwork deserves a special mention. On the cover we find "The Garden of Eden", by German artist Nicolas Monin-Baroille aka TheUnknownBeing, a designer and illustrator based in Offenburg. His stunning visual work for this album can be found in a larger, higher-res view here:

 http://theunknownbeing.deviantart.com/art/The-Garden-Of-Eden-168584676

 TRANSCENDENCE:

 Juta's tenth release contains four pieces, all of them slightly above the quarter of an hour mark. It begins with "Higurashi", which paves the way for a long journey of extended drones, crystalline sounds, and long-held notes that take inspiration from Gagaku, the oldest of the Japanese traditional performing arts. A musical style that contains long, slow songs and dance-like movements. On this composition, we find Juta imagining a Japanese forest of late summer evening. A higurashi is a common type of cicada in Japan. It's delicate music that slips through your fingers.

 "Nirvana Électronique", my favourite title here, contains a heavy-going sitar-like drone that crosses the track from beginning to end. It "leads you to the liberation from desires." It also contains the sound of the Erhu. "I used a Chinese violin, Erhu, plug-in as the lead instrument on 'Nirvana Électronique'," comments Juta. The evocative power of the combination of sounds Juta Takahashi employs here is really awesome.

 By the third track, "Maitrī", the album is getting better and better. Maitrī means "mercy" in Sanskrit. "It's a tune for merciful Maitreya," says Juta, "for whom I have a sincere regard." This piece, as well as the closer, seems to be less lineal and tend to swell and slowly mutate, unlike their two previous tracks. "Maitrī" begins with bell sounds over soft drones; later one, shimmering mirages start to come up. This piece treads on spongy clouds that drift slowly.

 "Transcendence", the album title track, represents Juta's yearning for sublimation. This closer starts in a more dramatic way. The tension is kept throughout the composition as the thick walls of sounds fill in our listening space. There's truly genius at work here. A close listen will reveal the magic of Juta's music. What a fascinating track to end the album. Simply great.

 All the music contained here presents a great respect to silence. Notes come from silence and gradually return to it, as a life cycle.

 "Transcendence" got selected as Monthly Top 20 Albums for October, 2013 and for January, 2014 at Galactic Travels; as one of December 2013 Top 15 STAR'S END Release; and as one of Significant Releases of 2013 at STAR'S END.

 "I always think that music must be musical and have an aura of glamour, even if it is ambient music. This belief of mine may make the characteristics of my music." [Juta Takahashi]
Review by Terry Wickham on Manta Ray Pictures (April 29, 2014):

Transcendence washed over me like warm, healing water. There is something liquid-like about the music as it moves forward with the purpose of bringing peace and freedom without disturbance.

Though the word "Higurashi" is defined as a murder mystery game or "sound novel", the way this tune plays feels like experiencing something profound, beyond our normal physical level.

The keyboard line that wavers and shimmers throughout "Nirvana Électronique" brings a quality that sounds distinctly Asian. While listening, it puts you in a state where there is never suffering, desire nor sense of self. It seems as though you hover above it all observing the cycle of life.

The best description for "Maitrī" would be a cross between the sun rinsing on a new day and unconditional friendliness & love. The cue projects rays of warmth that should touch your heart and soul.

The final song, the title track, runs the longest (all four pieces clock in over sixteen minutes) and is composed to make your mind ponder greatness. While listening to the song, it's almost like getting a boost to a higher plane.

Juta Takahashi is reaching to take his music to highest place to lift the spirit and make life a better place.

There's nobody I know that wouldn't want to experience that.
Review by Jana Rockstroh at Relaxed Machinery (December 31, 2013):

Beautifully evocative and exotic ambient music that's made with synthesizers and ethnic instruments.
"Transcendence" is currently available as factory-pressed (glassmastered) CD.
You can buy this album from our store, bandcamp,

Store and

.