JUTA TAKAHASHI OFFICIAL WEBSITE
Juta Takahashi: Albion (LR014)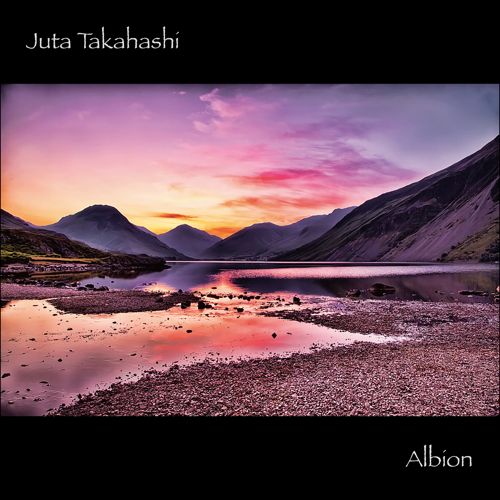 Radiant and majestic ambient music painting the beauty of Britain.

The eleventh album of Juta Takahashi, entitled "Albion", has been released in April, 2017. The album consists of following five long-form ambient tracks.


1. Silver Waves (13:52)

2. Frozen Day (13:18)

3. Shining Valley (14:56)

4. Maeve (13:58)

5. Summits (16:28)


The photograph, "Serenity", for the album jacket by Simon Evans aka Capturing-the-Light.

This work is dedicated to Shukichi Urushiyama.
Released on April 26, 2017.


Track description of 'Maeve':

Waltz for Maeve, Lee Anthony Norris' beautiful daughter. She's running on a meadow.
"Albion" has got selected as one of July 2017 Top 20 STAR'S END Releases.
"Albion" has got selected as one of Monthly Top 20 Albums for July, 2017, for August, 2017, and for April, 2022 at Galactic Travels.
Review by Bert Strolenberg on Sonic Immersion (July 5, 2017):

Jutaro Takahashi's "Albion", a 73-minute concept album, sees the light of day after a three year hiatus. Still using analogue synths only, Juta brings us five free form ambient compositions clocking between 13 and 16 minutes each inspired by and painting the beauty of Britain through rich, majestic, colourful and rather expansive sounding tone poems and soundscapes.

Impressive are the immersive, tranquil, slow morphing atmospheres accompanied by bits of piano making up "Frozen Day", an evocative aural painting not straying far from the works of Michael Neal. Things take off with ethereal, soft sparkling waves on "Shining Valley", another highly emotive-minimalist composition with a gentle soaring solo-voice on top continuing the feeling of flight and evoking a place at ease.

The heart-felt, serene sphere of textures and piano on the stellar "Maeve", dedicated to label-owner Lee Anthony Norris' daughter, even made me shed a few tears of emotion. "Summits" concludes the textural ride with soft shimmering and morphing synth-waves.

Suffice to say "Albion" is a must-have album for every aficionado of high-quality and cinematic soundscape music.
Review by Richard Gürtler (August 21, 2017):

Japanese drone ambient Maestro Jutaro "Juta" Takahashi was quite silent since his last album "Transcendence" released back in September 2013. If I am right, in the meantime he has only re-issued his older album "The Door Into Winter" in March 2015 on a glass mastered format (original CDr edition was released in 2007). Now he makes big return with a brand new studio work published at the end of April 2017 on his own Lunisolar Records. The album was recorded from December 2016 to February 2017. As usual for all releases of Juta Takahashi, the CD comes in a standard jewel case with a transparent tray featuring some stunning visuals provided by artists mostly based at DeviantArt community. "Albion", dedicated to the majestic landscapes of the Great Britain, is no exception as it is graced by immersing "Serenity" crepuscular splendor captured by Simon Evans, an amateur photographer with current residence in New Zealand.

Nearly 14-minute long opening piece "Silver Waves" straightly sets gracefully meandering dronescaping images carved by Juta Takahashi's masterful utilizing of his analog synths. Waving introspective layers are persistently permeated by climaxing high-pitched vistas, which already belong to distinguishable earmarks by this respected Japanese ambient drifter. If I remember well, I am strongly fascinated by these engrossing dissonant curtains since "Angel" track from the same titled CD album released five years ago. Indeed a very strong opening! "Frozen Day", only slightly shorter that its predecessor, delves deeply into stunningly foggy monochromatic sceneries, exquisitely reinforced by titillating piano glimpses. It's amazing how the frosted drone desolations with auxiliary perplexing spirals are softened by warmly embracing piano reflections. What a masterpiece, bravo, Juta!!! "Shining Valley", clocking to 15 minutes, quickly returns into euphoniously expansive panoramas, precisely amalgamating gliding flatlined sheets with ear-tickling cascading and soaring evocative meridians. Utterly magnificent soundscape authentically mirrored by its title! The next piece "Maeve" immediately transports the listener into the gorgeously tranquil garden of blossoming heartwarming piano motifs meticulously coalesced with harmoniously quiescent and sweepingly yearning horizons. As described by the author, this is waltz for Maeve, a composition dedicated to Lee Anthony Norris' beautiful daughter. A truly moving, emotionally profound, almost tearful piece of music! The closing track "Summits", with 16 and a half minutes the longest one on "Albion", floats with all its imposing grace and panoptic serenity, where spaciously contemplative drones perpetually commingle with gossamery delicate traceries, nuanced cinematic quietudes and benignly disruptive streams. Another sonic ambrosia!

Although Juta Takahashi has taken longer hiatus before releasing 73-minute "Albion" as his 11th album, a splendidly accomplished recording like this is always worth the wait! Without question, because "Albion" certainly rates as one of his magnum opuses, once again, bravo, Juta!!! And last but not least, Juta Takahashi's three CDr albums released during 2007-2008, "Across The Flow", "Remembrance" and "Moonlit Flowers" still remain unreleased as a glass mastered CDs, so I really hope he will take this into consideration, because his entire discography deserves to be completed, remastered and reissued on a CD format. Dive deeply into an awe-inspiring aural oasis of Juta Takahashi, intensely rewarding listening experience constantly awaits!!!
Review by Sylvain Lupari on Synth&Sequences (October 6, 2017):
"Albion is a little sound treasury intended for the music lovers of meditative ambiences who like when a harmonious approach hides in these high walls of intensive drones"

It's been a while since I heard new music from the Japanese Steve Roach, Juta Takahashi. The last album was The Door into Winter in 2015 which was a remaster of an album initially made in 2007. In fact, we need to go back as far as 2013 to hear the last original meditative mass of the mixed-tones line sculptor from Japan with the splendid album Angel of which we can hear sonic dust here and there on this last album of his. "Albion" is Juta's 11th album and honestly I do not know what Juta did during this period, but I suspect that he studied his music to give it a new more melodious orientation. His music is always thought in order to make float sound arcs and translucent reverberations which are filled of drones sometimes hungry and sometimes more nuanced. A rather shady ambient music which seems to wake up to the joy of the meditative melodies.
"Silver Waves" rings like some good old Juta Takahashi with a heap of floating interlacing waves which drift with peaks of emotionalism and anesthetic breezes more shadowy. The crossbreeding of both poles sculptures a sound horizon closer to cosmos with effects which sparkle as the singing of stars in an intersidereal space embellished of images well shaped by the analog tone from the synths of the Japanese master of esoteric vibes. The melodious term is very subjective in the universe of ambient music. The well advised ears are very capable of catching these melodious waves in the grasps of two tones, while absent-minded ears miss this delicate meeting point. It's more convincing in the very beautiful "Frozen Day" and its notes of a piano which losts its feeling of solitude through the rangy waves of synth and its colors tinted with a suspicion of ether and with powder of metal. Layers of voices, as some passive drones, enclose these note which moan in a slow whirlwind of sinusoidal waves which oscillate constantly between two universes. There is some Steve Roach in there and one listens to this piece of music marvelously with Structures from Silence. A very solid title of Juta Takahashi which makes rise recollections of his very beautiful album Angel, made in 2012.
"Shining Valley" is a very dark title sculptured around resonating drones which also sing in a platonic way with the sound arcs a little more floodlit. Arcs which get rid of their circular forms to follow the walls of nothingness with of beautiful transitory floating movement. These songs, rather of a spectral kind, illuminate the rather low and very shaded sound ceiling. I have this delicious impression to drift in the cosmos with songs of intersidereal whales which try to lull my innocence. There are flavors of Vangelis, period Blade Runner, which ooze throughout my cosmic odyssey. Intense and very enveloping! If I do not make a mistake, "Maeve" is the most beautiful title of Juta Takahashi's repertoire. A magnificent melody, delicately put down by a piano in a minimalist mode, deploys its embrace with a series of juvenile ritornellos which twirl such as astral ballerinas on a carpet of cosmic mists and prisms. The reverberating effects of the synth waves become as honeyed as this virgin melody which haunts our ears, always full of mist, well beyond this last time that I listened to it. Splendid candy for the ears my friends! The atmospheres of "Summits" and the structures of its sound arcs depict marvelously the sense of its title. It's a long and a hefty ambient movement sculptured in the emotionalism with heavy drones which are like these moments when the air is lacking in our lungs. I have no difficulty in imagining myself to be on summits with winds without oxygen to contemplate a gigantic panorama where a piano tries to breathe by a melody scattered in this ballet of drones and waves with contrasting colors and emotions.
"Albion" is a little jewel intended for the music lovers of meditative ambiences who like when a harmonious approach hides in these high walls of intensive drones. Juta Takahashi goes beyond his very beautiful album Angel with a touch which freed itself from the dark model sieved by a strong nostalgia. If the melancholic side is always present in the music of the Japanese synth wizard, there is now a smile of drawn above and of which the borders even brush a more accessible musicality up to here absent in his repertoire. A wonderful album which lulls my preludes to sleep since about ten days.
"Albion" is currently available as factory-pressed (glassmastered) CD.
You can buy this album from our store, bandcamp,

Store and

.