JUTA TAKAHASHI OFFICIAL WEBSITE
Juta Takahashi: Silence (LR008)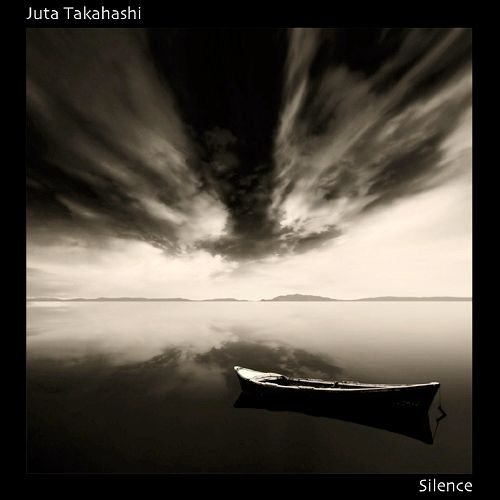 Pure ambient music consisting of echoes, dream, flow of life, and sighs of night. 
The eighth album of Juta Takahashi consists of following four tracks. 
1. Ararat (13:23) 
The view from the summit. 
2. Wet Dream (14:33) 
A dream without special consequence. 
3. Continua Shift (14:45) 
The flow of life. 
4. Silence (15:27) 
Sighs of purified night. 

The photo, "midnight in a perfect world", for the album jacket by anjart.
Released on November 19, 2010.
"Silence" has got selected as one of Monthly Top 20 Albums for March, 2011 at Galactic Travels. 
Review by Koos van Wijngaarden at EMPortal (December 11, 2010): 
My first acquaintance with the music of this relative unknown composer/musician dates from 2009. Because there is so few known about this modest artist he remains a bit of an enigma. Recently Juta released his eighth album containing some of the musical 'blossom' from his country, the Land of the rising Sun. After his previous album I was looking forward to his new work and I can assure you that this new CD will not disappoint you. 
As symbolized by the beautiful cover made by Anjart this is "Floating" music and there is the 'Silence' that speaks. Not so long after his previous release "Hymn" Juta Takahashi surprises us again with a beautiful ambient disc containing 4 long pieces each with a different character. 
The best of both worlds; one fluid movement in 4 excellent pieces: 
Ararat 
The calm and relaxed opening shows us the open water with some subtle ripples halfway combined with the sound of japanese ethnic instruments. Great combination here and the ultimate way to relax. 
Wet Dream 
Spacey, abstract and almost surreal. Prepare for a trip! 
Continua Shift 
Third track; my favourite on this album has this mysterious pattern that like the title says shifts from the beginning till the end. 
Silence 
Last piece is the title track in which Juta expresses his emotions and reveals us the sound of silence: the eternal voice from an endless space. Excellent. 
What can I say: I like rhythm but I love 'Silence'. Juta Takahashi could have been a painter but has chosen to structure and sculpture sound in a magical way: pure and beautiful. He delivered another strong CD continuing his path of silent music and giving it his typical touch. My compliments for the excellent sound quality, the balanced compositions and the exclusive Cover Art. 
Highly recommended to anybody who is looking for stylish and relaxing electronic music. 
The factory pressed CD is now available via CD Baby or via the artist's website. 
rating: 85/100 
Review by Bert Strolenberg at Sonic Immersion (December 12, 2010): 
Fans of calming and immersive textural ambient will find lots of their liking in the music of Jutaro Takahashi. On his release "Silence", Juta has further improved the quality of his soft soaring and slowly morphing ambient soundscapes. 
Not only has the sonic outcome of the four tracks a dreamy and meditative effect, the pleasant analogue undercurrents make the outcome shine smoothly with immersive effect. Opener "Ararat" is an imaginary piece, which evokes the feeling of wide scenery seen from a mountaintop. 
The highlight though for me is the beautiful vintage strings in the airy sonic landscape "Wet Dream", leaving room for a Zen-like state of being. In my opinion, this sense of grace is a bit less apparent in "Continua Shift", as I would have preferred a bit more transparency within its relaxed layers of sound. 
The 15-minute title track, which feels like a drift in air, puts an end to the meditative, non-rhythmic album. 
Nicely done, Juta. 
Review by John Shanahan at Hypnagogue (February 23, 2011): 
There is not much silence on Juta Takahashi's new release, Silence. There is, however, an abundance of reflective, slow-moving ambient music. In four long tracks, the shortest clocking in at 13 and a half minutes, Takahashi gently escorts the listener through his carefully developed visions. Each stands alone perfectly, particular elements in each providing a recognizable personality; together they create an inspiring, relaxing suite. The opener, "Ararat," takes its character from the crisp strike of a sampled Turkish cimbalom (dulcimer), placing a traditional-music feel against long, tonally sharp pads. In "Wet Dream," shimmering and burbling clusters of electronics are punctuated by intermittent piano notes, a brief gleam of sunlight on water. Now and then a rush of pads rises up like a breeze. "Continua Shift" is a warm current of soft sound going nowhere in particular and in no hurry to get there. Here, wide, amorphously undulating pads are gently offset by what sounds like a voice in the distance, singing in harmony. This is an easy piece to get completely lost in. "Silence" completes the journey with chords that come in slow succession, fading almost to the titular quietude before the next rises. Takahashi's sense of the effect of a pause is flawless; each is like the moment between breaths, the space held to a point of perfection. Take the moments after the last note disappears to simply be aware. All in all, Silence is much like a wordless guided meditation. 
The underlying quality in Takahashi's work is a consistent patience. It often seems that he wants to see where a note will go if left to its own devices. He crafts these sounds, breathes life into them and then sets them on their way. The result is pure ambient bliss, beatless and engaging. Silence is yet another superb release from an artist who is rapidly becoming one of my favorites. 
Available from CD Baby. 
Review by Sylvain Lupari at Synth&Sequences (September 30, 2011): 
After having seduced me with the meditative approach of Hymn, Jutaro Takahashi does it again with an album which is more enlivened and more implosive. Released in November 2010, Silence is build around 4 tracks of an average time of 14 minutes. Four tracks impregnated of a certain melancholy where the Japanese master of ambient music plunges within interiority in order to moved repressed feelings. It's a beautiful album where the feelings float on the surface of music. 
"Ararat" is a strange melancholic ode which hears in a somber universe of metallic tones. A synth line emerges at far and rises to undulate delicately. As an iridescent river, this line flows and leads towards a more nasal and metallic one. She wraps with a pearly heaviness the soft oscillation of the introductory line, whereas another line joins this soft morphic introduction where line over line, "Ararat" floats of his breaths and hybrid cosmic winds. Notes, strongly pinched, a Dulcimer fall on these lines which get tangled such as slow cosmic waves and resound in a quite silvered musical meshing. They float, roam and draw from times to times brief melodies as well as melancholic perfumes of Japanese spiritualities. A long track where waves' noise and ringings of the Wind Chime shape a mesmerizing oceanic ode, "Wet Dream" flows as a river of serenity. This track to delicate movements imprinted of a fascinating melancholy begins with shimmering synth waves which shine and lap in a soft aquatic maelstrom. Chords of a Wind Chime float and ring impromptuly on the surface of this quixotic water, such as pebbles hopping here and there to form imperfect circles. These waves hem, such as cosmic winds, with an oniric tranquillity, while those luxurious Mellotron violins caress the slow twinkling movements, adding a soft moving depth to this cosmico-halieutic musical poem. More atonal and less musical, "Continua Shift" is a long linear movement where breezes and cosmic winds get intertwined in an intense broth of synth strata. These layers float and embrace in an eternal morphic dance with slow cosmic implosions which wind around this long linear trip. With its synth layers which intertwine in an ode of silence, "Silence" is the most implosive track of Jutaro Takahashi's last opus. It is a long crusade of serenity where moving and vibrating synth layers embrace long sighs of Mellotron and form intense implosions which throw an approach imprinted by a spiritual melancholy. Decorated by scattered piano notes, which roam among its long crisscrossing winds, "Silence" flows as a somber poem about peace of mind, there where nobody can enter. 
How to investigate ambient music without repeating? Well, Jutaro Takahashi seems to have found the way. Although rather similar to Hymn, Silence distances itself by the addition of Mellotron strata which add more relief to his ambient introspections. Piano and Dulcimer notes which fall parsimoniously to wander between interweaving of synth and Mellotron layers add even more emotionalism to the music of the Japanese synthesist. But one in the other, the ambient music finds its strength in the fluidity and harmony of its movements, and in this respect, Jutaro Takahashi may easily be compared to Steve Roach, Michael Stearns and other masters of contemporary ambient. Available at CD Baby. 
Review by Richard Gürtler (May 20, 2012):
In Sendai, Japan, based ambient drifter Jutaro "Juta" Takahashi, comes here with his 8th full length album "Silence", released in November 2010 through his own Lunisolar Records imprint. Comprised of 4 longer compositions, clocking from 13 and half to 15 and half minutes, the album "Silence" is accompanied by totally magnificent and eye-catching brown-colored cover image of vast open sea, entitled as "Midnight In A Perfect World" and executed by German artist Anja Stiegler, precisely interacting with Juta's soundscapes. "Silence" is ignited by "Ararat", a composition dedicated to Mount Ararat, a two peak hill located in Turkey on Armenian Plateau. "Ararat" unfolds with gracefully gliding slow-motion drones, serenely immersing and picturesque, ornamented throughout the piece by delicate Middle East fragranced string sounds, and reveals a beautifully panoramic and soothing view from the summit. "Wet Dream" steps in slightly more active poetic texture with stronger cinematic approach, masterfully spiced by occasional distant and fragile metallic and piano sounds. Another highly evocative piece of music, drenched in the ocean of deeply mesmerizing beauty and blissfulness!!! The next composition, "Continua Shift", is the most massive dronescape, supported on the back by mysteriously fumed factory-like rumblings and celestially floating voice-like sounds. A truly transcendental sonic experience awaits!!! The closing title track, "Silence", returns, as indicated by its name, into more quiet and peaceful territories with highly relieving piano sounds. More minimal sculpting is based on altering harmony of silent moments with passages of fading in and out synth and piano blankets. All the magic and essence of the nocturnal journey is fully explored through this beautifully captivating epilogue. "Silence" is skillfully crafted, stirring and varied, but gracefully balanced and elegant!!! A must have for all ambient connoisseurs seeking for pure sonic beauty and tranquility in their music!!! Absolutely gorgeous, Juta!!!
Customer Review (by Jonathan) at Amazon.com (December 16, 2010):
Best to date
I have several of Takahashi's works and I enjoy them all, but I think "Silence" is his best. He seems to be getting stronger with each release. The pieces in this work are all elegant, sonorous, and create in the listener a quiet positivism that lasts beyond the music. Highly recomended!

"Silence" is currently available as factory-pressed (glassmastered) CD.