JUTA TAKAHASHI OFFICIAL WEBSITE
Juta Takahashi: Moonlit Flowers (LR004)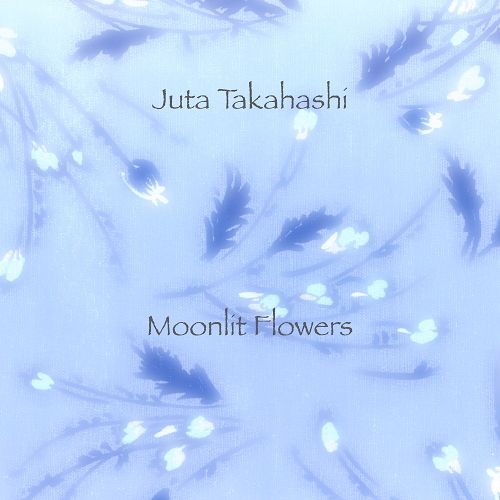 Beautiful and silent ambient music with exotic flavors by analog instruments. 
The fourth album of Juta Takahashi contains following three tunes. 
1. Sadder Shore (15'38") 
Ripples melancholily surge ashore at dusk. 
2. Moonlit Flowers (17'18") 
Moonlit flowers without name sway in breeze and sing in silence. 
3. Pagan Chant (19'58") 
You stray off a land of heresy and are captivated by the chant.
This work is dedicated to Mieko Takahashi (1929-2006).

Released on August 25, 2008.
Review by Bert Strolenberg at Sonic Immersion (April 4, 2009): 
Three long ambient tracks fill Juta(ro) Takahashi's fourth release "Moonlit Flowers". 
"Sadder Shore" starts out with nice drifting analogue and soaring textures and a more pronounced synth lead, to which an accompanying choir soundscape shows up now and then. 
This immersive, reflective space lasts over 15 minutes. 
The 17-minute title track is next, a smooth and gently flowing soundscape tapestry with exotic flavours and occasional twinkling keys, creating an overall hypnotising atmosphere. 
With "Pagan Chant", clocking at 20 minutes, the introspective music winds down in a beautiful way by means of a slow, extended soaring lead. 
The latter strongly reminded me of those that Klaus Schulze used at the end of the '70's and begin of the '80's during his concerts. 
Well done, Jutaro!

"Moonlit Flowers" is available to purchase physically as part of "Triad", a USB memory stick release.

The original physical release (CD-R) is sold out. There is no plan for CD-DA reissue at present.
You can buy this album digitally at bandcamp,

Store and

.

Only at bandcamp, 'Moonlit Flowers' is available to purchase digitally as the 2018 remixed & newly recorded version for "Triad".