JUTA TAKAHASHI OFFICIAL WEBSITE
Juta Takahashi: Seabound (LR011)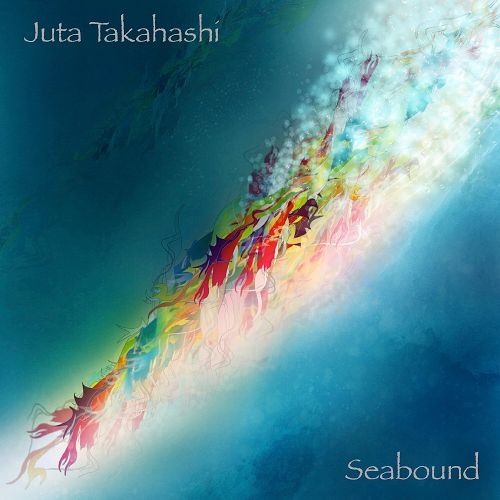 Tunes from the ocean, painted with synthesizers, acoustic pianos and voices. 
The fifth album of Juta Takahashi contains following three tunes. 
1. Undercurrent (23'04") 
Drifting on an undercurrent of the ocean. Hear the ocean. 
2. Poseidon (17'04") 
Poseidon rising. 
3. Seabound (20'30") 
We all are from the sea and return there.
The artwork, "Poseidon's Steeds", for the album jacket by Lucas Simons.
This work is dedicated to Juro Takahashi (1893-1975).
Originally released on March 3, 2009 and remastered in 2013.

"Seabound" has got selected as one of Monthly Top 20 Albums for April, 2013 at Galactic Travels.
Review by Bert Strolenberg at Sonic Immersion (March 11, 2009): 
"Seabound", released at the beginning of March 2009, is the fifth album by Japanese ambient composer Juta Takahashi. 
Juta himself describes the sonic content as "tunes from the ocean, painted with synthesizers, acoustic pianos and voices". 
The three extended tracks (23, 17 and 20 minutes respectively) offer overall calming, textural music, of which the rich sound pallet of analogue synthesizers gives the music and extra edge. 
"Undercurrent" features some nice textural paintings and repetitive acoustic piano motifs, both wandering in a freeform manner, to which celestial, elevating soundscapes are added halfway. 
With your eyes closed, one can easily imagine hearing and feeling the ocean while drifting on the undercurrents of the ocean. 
"Poseidon" sounds more adventurous with slightly droning vintage pads and synth washes slowly moving forth. 
The last piece on the album is the beautiful 20-minute title track, which reminded me of John Kerr's piece "Imminent Shadows II", but in a non-symphonic style. 
Its flowing, moody and overall relaxing textural soundscapes get company of a heavenly, mesmerizing vocal chord showing up in the second half of the track. 
So seek a comfortable seat or lie down and let yourself be embraced by Juta's dreamy and contemplative music, which would sparkle even more after some further improved mastering. 
Nevertheless, a recommended piece of work.
Review by Joseph Hutchings, Edinburgh, Scotland, UK (September 5, 2012):

'Seabound' is a real pleasure of an ambient album, which is in part due not only to its solid theme, but also because it brings that theme to life in such different ways across only three, satisfyingly drawn out, tracks

The first offering 'Undercurrent' is a relatively austere affair. Repeated throughout, the presence of a slightly tense line of notes played on the piano 'anchors' the track, while denoting the presence of the elusive 'undercurrent' of the title. The sea as evoked here does not seem to be particularly deep: suspended from above, one can imagine the still visible shapes of submerged rocks, perhaps even the hull of a sunken ship. The repeated chime of 'globular' sounds suggests bubbles thrown up by the slow, interminable motion of the sea. Midway through the track these die away, to be replaced by some slowly indeterminate but powerful chords - signifying our transferral to beneath the surface, where a complicated (possibly Atlantean) sight greets our eyes.

Next, the aptly-titled 'Poseidon' goes for the jugular by representing the sea in its most alien and antagonistic aspect to man. One word that defines this track is 'menace'. The first thing that we remark is an electronic 'snarl', which does not let up for the course of the track. A steady whooshing sound that rises and falls casts us, the listener, in a state of suspension upon a bobbing current. Around us we might be said to see only the dim haze of the ocean, while below the fathoms stretch into a scarcely penetrable darkness, which nonetheless feels pregnant with all kinds of horrors. An intermittent stream of echoey noises evokes a jumbled domain of ancient sea caverns, plunging abysses and the relics of forgotten ships; while occasional piercing notes suggest brief lights, shone by magma boiling up from the sea floor, or eerie lanterns lit by who knows what ghastly denizens of the deep. Somewhere, we sense Poseidon's folk in the form a mass of claws, carapaces and tentacles. This is dark ambient in its most thrillingly evocative!

In counterpoint to the horror that has gone before, with the titular track 'Seabound' we arrive at a romanticised, 'friendly' vision of the sea. The heart of the track is the repetition of four - nonetheless beautiful - drawn out chords, around which cetacean cries occasionally echo in sympathy. I love to doze off to ambient music, while I create an accompanying vision in my head. In this case, I imagined a futuristic, 'crystalline' marina, gleaming with innumerable reflections from a moon that overhung a deep azure blue sea: perfectly still, tranquil, and just a little sad. Towards the end of this meditation, the chords become deeper and more resonant, evoking even more poignantly the expanse and depth of the sea, and possibly (who knows?) a sense of longing.
Review by Sylvain Lupari at Synth&Sequences (May 6, 2013):

"Seabound is an exquisite ambient album and it's without a doubt the equivalent for Juta Takahashi of what Structures from Silence is to Steve Roach"

After Quiet Rain, it's the turn of "Seabound" of taking advantage of a musical refreshment.
Initially released in 2009 on CD-R format, this 5th album of Juta Takahashi is an impressive sound mosaic which entails us in the deepness of a universe which remains as much intriguing as the cosmos is. Sculpted in the infinite possibilities of the analog synths, this oceanographic symphony finds all its musical depth in a new remastering which defined with accuracy the immensity of an intense oceanotronic work.
Notes of piano, playing the scale with a harmonious indistinctness, spread a enchanting hypnotic melody which runs in loops in an oceanographic broth where squeak lamentations of spectral whales. "Undercurrent" brings us in the depths of "Seabound" with a repetitive melodic pattern which swims constantly in a water rich of its sonic oxygenation shining by thousand of prismic particles. The atmosphere is soothing and the melodious motif weaves a hypnotic earworm which floats constantly between our two hemispheres. A musical itch which drifts throughout the 23 minutes that lasts "Undercurrent" and roams between these various gregarious intonations embroidered in the breaths of seraphic voices and into some smooth halieutic synth waves. Magnetic! It's of a strange soporific beauty which brings us there where Juta Takahashi wants to situates his opus. "Poseidon" is more tormented with its black winds which buzz and blow with such a swiftness that they tear the foam of waters. They plunge and knock down the tranquility of the abyssal depths with a mixture of synths layers and of their varied tones which float with languor in the marine countercurrents. Their shadows blow some black sighs of which the irradiant outlines are dancing with other more silvery tones, drawing a mesmerizing dance with the colors of kaleidoscopic prisms which sparkle in the shades of ebony silvered. The waves which cover the panoramic banks of a paradisiacal island also cover our peace of mind when the first dreamlike breaths of the title-track reach our ears. With its synth lines which interlace in a juxtaposition of sound pallets to the reflections as dark as crystalline, "Seabound" is of a breathtaking sibylline beauty. Morphic and surprisingly musical, this slow symphony about the solitude of the halieutic spectres enchants with all these so lyrical synth layers coil up to float in sound landscapes to shady and disturbing feelings.
Once again, the music of Juta Takahashi totally seduced me. "Seabound" is a wonderful album which sparkles of its mysticism with a rather unique sound description of a universe which doesn't stop shining with its thousand musical reflections. The music is peaceful and poetic. It spreads its morphic veils with so much delicacy that we forget time. Here is a classic of ambient form music which appeases my nocturnal torments, such as Steve Roach did with his amazing Structures from Silence.

Review by Richard Gürtler (May 26, 2013):
In Sendai based Japanese ambient mastermind Juta Takahashi returns after "Quiet Rain" with another remastered edition, this time it's "Seabound" album, released at the beginning of April, 2013 on his Lunisolar Records. "Seabound", Juta's 5th album, was originally released during 2009 as a CDr version. As typical for this crafted sonic sculptor, the album is comprised of three longer compositions, clocking between 17 and 23 minutes in length. The opening and longest piece, "Undercurrent" features layers of gently immense drifts and whirling curiosities, which are intertwined with mesmerizingly repetitive piano motifs, here and there enhanced by rather high-pitched squeaks and disruptions. Heavenly choirs occasionally sneak in and out. Juta's characteristic alchemy of quietly soothing passages with more disturbing traceries is of course apparent, moving through manifold cascades, but always keeping its hauntingly harmonious and enveloping atmosphere. "Poseidon" dives straightly into deeper drone realms, colored by ear-splitting noises, frightening hums and other harshly rumbling ghostscapes. Hint of distant melody floats throughout these spectacular, unfathomable depths. Enter now the domain of the sea guard and experience this variegated subaqueous sonic tempest, this must be Juta Takahashi at his most discordant!!! Sea waves lead "Seabound", the closing title composition, into beautifully relaxing and expansive panoramas, build of strangely, but majestically meandering, coiling and elevating aerial melodies with slightly orchestral color. Additional sonic submergences appear occasionally. Stunning sea imageries can be captured throughout this pleasantly sweeping in-depth journey. A peacefully reflective atmospheric experience filled with warm, radiant and soothing subtleties. Juta Takahashi keeps on impressing me, because after beautifully sublime "Quiet Rain", he comes with another strong recording originated longer time ago and now available on well-deserved glass mastered CD. "Seabound" is another album by this Japanese composer embracing the listener with continuous delight, no matter if tranquil or adventurous!!! Kudos to Lucas Simons for nicely fitting cover image. I hope Juta has still in the pipeline, except his future projects, also some other, well treasured sonic documents taken from his earlier discography. Arigato, Juta Takahashi san!!!
Review by Jana Rockstroh at Relaxed Machinery (June 4, 2013):

"Seabound" by our member Juta Takahashi from Japan is a swirling new album, a remastered edition from 2009 originally. You can hear three longform ambient pieces with beautifully vortex-like crafted soundstructures that add an otherwordly sense to the music. My very favourite song on the album is "Poseidon".

"Seabound" is currently available as factory-pressed (glassmastered) CD which consists of remastered tracks.
Original release (LR005): CD-R (officially sold out)
Reissue (LR011): CD-DA (available)
You can buy this album from our store, bandcamp,

Store and

.