JUTA TAKAHASHI OFFICIAL WEBSITE
Juta Takahashi: Hymn (LR007)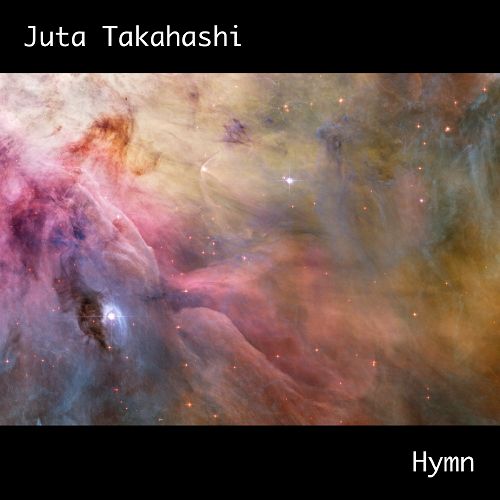 Beautiful, serene and grand ambient music that takes you to the skies, bygone days and the universe. 
The seventh album of Juta Takahashi consists of following three tracks. 
1. Stratosphere (19:23) 
Gliding through icedust in stratosphere. 
2. Faraway (19:23) 
So far away, so long ago. 
3. Hymn (20:27) 
Hymn to the universe.
The cover photo: "Hubble Panoramic View of Orion Nebula Reveals Thousands of Stars" (NASA/courtesy of nasaimages.org)
Released on January 12, 2010.
"Hymn" has got selected as Featured Release at StillStream (January 31, 2010): 
Japanese artist Juta Takahashi has only been releasing ambient music since 2007, but with his latest release Hymn he has created a work of enduring value and immense beauty. With nearly an hour of some of the most exquisite and mature ambient music we've heard in some time, we feel certain this album will be considered one of the top releases of 2010. Highly, highly recommended. 
"Hymn" has got selected as one of July 2010 Top 10 STAR'S END Releases.
"Hymn" has got selected as one of Significant Releases of 2010 at STAR'S END. 
Review by Bert Strolenberg at Sonic Immersion (February 9, 2010): 
With "Hymn", his seventh release by now, Japanese ambient composer Jutaro Takahashi brings us 60-minutes of smooth, gentle and gracious cosmic soundscapes, which seem to dissolve in time. 
The three tracks of 20 minutes each evolve gradually and very slowly, which I imagine can make them too long form and repetitive for some though. "Faraway", the second piece, is the most introspective, calming and meditative. 
For me, the closing title is the best and strongest effort. It's an expansive sea of choral-like spacious textures with occasional twinkling elements, all forming a majestic space of unhurried drift. 
Fans of Iasos and those looking for soothing, serene and free form ambient without any rhythm will sure like the overall outcome of "Hymn". The album is available through CD-Baby. 
Review by John Shanahan at Hypnagogue (July 18, 2010): 
Juta Takahashi's seventh release, Hymn, is a quiet offering of three long-form drifts in a classic ambient/spacemusic style. 
These tracks are built on familiar, sighing synth pads that rise, twist around each other intimately for a few moments, then part ways to grab hold of a new sigh lifting itself into view. 
In this manner the listener is taken aside, mentally massaged to calmness and left to float. 
While the layers here never seem to run particularly deep, they are always handled with grace and a good sense of timing. 
Nothing feels like it lags too long, nor do Takahashi's expressions leave too quickly. 
There is an enjoyable balance at work. 
Hymn is, I feel, a better low-volume CD than something that you need to get deeply into. 
The strength here is the quietness, not the complexity. 
Treated as a classically defined ambient album and left to sonically augment a space rather than impose itself on it, Hymn simply glimmers. 
Add this one to your favorite spacemusic playlist and enjoy the ride. 
Review by Sylvain Lupari at Synth&Sequences (September 30, 2011): 
Takahashi Juta is a Japanese artist who makes purely ambient EM since 2007. Released in January 2010, Hymn is an opus divided into 3 long musical acts of which morphic movements are unrolling into peaceful astral phases. These are 3 long tracks to different structures where the poetry and harmony of these intense atonal movements dandle in the shade of very nice modulations which insufflate a lot of emotionalism and relief to this 7th opus of the Japanese synthesist. 
"Stratosphere" opens Hymn with a fine wave of synth which blows such as a cosmic wind. Linear, with delicate symmetric modulations, this synth line progresses with a passion imprinted of melancholy. This long track is watered by some notes of an acoustic guitar which seem to fall from skies and resound because of the strength of their plucking. Scattered notes which fall in a fortuitous way on a long movement flowing such as a cosmic river where shine muffled stars on a structure swaying finely like interstellar waves. It's a good and long ambient track, rich in synth structures which overlap with a tranquility fed by touching floating oscillations with a kind of celestial harmony. "Faraway" is another long quiet movement where intermingle sharp synth winds which crisscross in an intense morphic ballet. These are beautiful ethereal impulsions which oscillate, pushed by silent cosmic waves pushing back synth waves into submerging astral territories. The tones and tints of synth layers are so deep that they bring us to a vessel of relaxation and tranquillity. "Hymn", the titles track, is my favourite track on Juta Takahashi's 7th opus. It's a majestic work which reminds me of the wonderful M'Ocean from Michael Stearns. It's a great ambient movement from which silent waves rush into twinkling arpeggios and under astral choirs which murmur such as cosmic wind. A very good track, always so intense, which fills our head of dreams and forgotten hopes, which resurface as we let ourselves invaded by this submersing morphic dance. 
I was very surprised by the musicality of Hymn, a musical adventure which will please undoubtedly every fan of ambient music. I denoted a lot of influences of Michael Stearns, on "Faraway" and Kitaro (in particular on the title track). Floating, inspired and morphic, the music of Juta Takahashi is a musical tale which dandles us throughout its listening, Listenings that we multiply, especially before sleep time, by its beauty and its musicality which hatch out such as intense and powerful cosmic broth. Yes, a very beautiful album which brings us as much near to sleep as our interior. It's an album that every fan of EM ambient should have. Available at CD Baby.
Review by Richard Gürtler (June 23, 2012):
"Hymn" is the 7th album by Japanese ambient maestro Jutaro "Juta" Takahashi (based in Sendai, Miyagi), released in January, 2010, on his own label Lunisolar Records. Just the same as with his "Silence" CD, reviewed some weeks ago, "Hymn" CD gets immediately extra points for its stunning front cover image featuring the famous 2006 Hubble Space Telescope color mosaic of the Orion Nebula. The album is made up of three longer compositions, each clocking around 20 minutes. "Stratosphere" unfolds this odyssey with gracefully heartfelt and endlessly floating, slow-motion drifts, fragranced with delicately fragile, but expressively fitting strings. This solitary ambience transports each listener into the deep realms of space. The next composition "Faraway" moves into slightly more minimal and meditative realms sculpted with nearly hallucinogenic washes, serenely cascading from slightly dissonant, "buzzing" sounds to more silent, poetic passages, carefully exploring gracious beauty of immense outer reaches of space, and accomplishing deep synergy between the music and its title. The title composition "Hymn" is immediately invaded by celestial choir-like sounds and returns to more drifting territories explored through the first track, but this time diffusing much more monumentally into tense symphonious atmospheres, reaching strongly cinematic feel of breathtaking adventure and glorious beauty. These slowly expanding and triumphant soundwalls are here and there enriched by luminously euphoric fragments and swirls. Definitely one of the most magnificent and colossal soundscapes Juta has ever done and a truly grandiose conclusion of this profoundly wonderful album, where all three lengthy pieces are powerfully expansive and quietly immersing!!! A tremendously fascinating star gazing odyssey precisely interacting with the cover image!!! Arigatō, Juta!!!
Customer Review (by braconnier) on CD Baby Page: 
Un sommet de l'ambient
pure ambient, rare beauté 
Customer Review (by A Reader) at Amazon.com (September 26, 2010):
Purring & Stargazing
Electronic music to take you straight (or not so straight) into the "hearts of space." Perfect for massage work, certain forms of yoga/meditation, stargazing, or just an evening of purring. I described it to one person as "essential music for those who don't live where they can see stars any more." (Those of us who can still see the stars already hear it.) For those who like this kind of music, this is among the best. 
Check out Takahashi's "artist page" here on Amazon for quite a bit more in a similar, contemplative vein (click on his name, above). Very similar to the work of John Serrie, for instance. Mostly tonal, without rhythmic pushes, Takahashi takes the time to really develop the music. For some, this will put them to sleep; for others, it will just let them go deeper.
Customer Review (by M. J Roberti) at Amazon.com (September 14, 2014):
 
Five Stars
 
Awesome ambient space music. Period. I mean, seriously. You can't go wrong.

"Hymn" is currently available as factory-pressed (glassmastered) CD and vinyl LP.
Original release (LR007): CD-R (officially sold out)
Reissue (LR007): CD-DA (available)
Vinyl release (LR020): Clear vinyl LP (available)
We must tell you that some CD-Rs were sold as the temporary release before the release of glassmastered CD. Each item number (LR007) is the same. So, you may need to confirm with sellers which version you're about to get, if you're likely to pick up the CD-R. Sorry for the confusion. Please purchase the CD from our store or bandcamp and you'll get the glassmastered one.
You can buy this album at our store, bandcamp,

Store and

.

Please note that you can't purchase the vinyl version anywhere except bandcamp.