JUTA TAKAHASHI OFFICIAL WEBSITE
Juta Takahashi: Light and Shadows (LR015)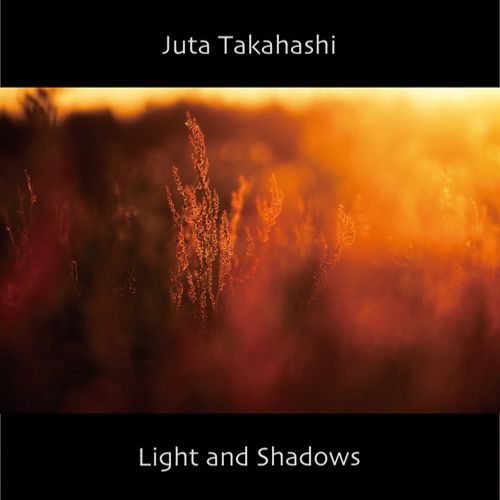 Dreamy summer soundscapes that gradually turn into quiet autumn ones.
The twelfth album of Juta Takahashi, entitled "Light and Shadows", has been released in December, 2017. The 2-CD album consists of following six long-form ambient tracks.
Disc 1:
1. Heat Haze (16:56)
2. Tangerine Blue (12:28)
3. Escape Velocity (16:40)
Disc 2:
1. Sun Shower (16:38)
2. Deeper Skies (16:00)
3. Autumn Bringer (17:10)
The photograph, "Summer Reds", for the album jacket by Joni Niemelä.
Released on December 6, 2017.
The tracks on "Light and Shadows" were originally released as part of "Nagual" compilations from txt recordings, except for 'Tangerine Blue' and 'Deeper Skies', new songs.
"Light and Shadows" has got selected as one of February 2018 Top 20 STAR'S END Releases.
"Light and Shadows" has got selected as one of Monthly Top 20 Albums for February, 2018, for March, 2018, and for April, 2022 at Galactic Travels.
Review by Bert Strolenberg on Sonic Immersion (February 18, 2018):
"Light and Shadows", released on December 6, 2017, is the first double album by accomplished Japanese synthesist Jutaro Takahashi. Jutaro's 12th release comprises six extended ambient soundscapes, two new tracks ("Tangerine Blue", "Deeper Skies") and four others that were featured previously on txt recordings' Nagual collection.
Well, Mr Takahashi presents long tapestries of minimalist, soft soaring, lush, warm and expertly layered textures. The latter features rich and pastel colors with subtle nuances while painting some thoughtful sonic scenery. In addition, there's a beautiful sense of radiance, tranquility and heartwarming glow present in the gentle unfolding, spring to summer-themed compositions (leading into fall eventually) that never cease to fascinate as they spiral up and downwards.
All in all "Light and Shadows" is a quality ambient drift caressing the mind, making it dream quite effortlessly. It keeps resonating nicely in your head after the music stopped playing. Well done, Juta.
Review by Sylvain Lupari on Synth&Sequences (March 12, 2018):
"Light and Shadows is an album of ambient music which accompanies your reveries while maintaining a level of curiosity for music"
I'm always fascinated by these tonal painters who present year after year the fruit of their anagogic visions in sounds. The colors of their landscapes are particularly inspired by their environments, especially the lovers of the Zen culture, but often by a more or less gloomy perception of their circles of acquaintances. Always haloed with contrasting colors, the music of Juta Takahashi is situated between these roads. Here, the carmine red of a Japanese autumn bewitches the 6 essences of "Light and Shadows". This 12th album of the Japanese synthesist regroups a series of titles which have appeared in 2017 on diverse compilations of the English label dedicated to the ambient and/or experimental music, txt Recordings. "Tangerine Blue" and "Deeper Skies" are new titles which fit very well in these transitional textures where the colors of summer move towards those of autumn. With its colors, its contrasting effects and its poetry of sounds, the music offered on this double album of Juta Takahashi respects literally the meaning of its title.
And this first duel of the colors of tones gets organized around the introduction of "Heat Haze". Dark and foggy waves flow like its dark sonic bed while some delicate lines more refulgence are whistling peacefully. Strange noises, a little like guitar loops badly tied up, stand out from this anesthetic contrast, teasing an attentive hearing to these small details which revolve around the soundscapes of this album. Without any rhythmic life, here as in the 5 other long titles of "Light and Shadows", an intensity is taking shape inside the seraphic impulses of "Heat Haze", bringing a small bit of morphic intensity. "Tangerine Blue" is all the opposite. Here the essences of sounds are haloed with limpidity and the darker waves stay quite at the bottom in order to put down this sound cradle which forces the contrasts in the music of this last Mr. Takahashi's opus. The movement progresses with serenity, dropping some thin strands more crystalline which dance weakly around these waves of celestial hums in order to illuminate all the tenderness of "Tangerine Blue". Between the light and the twilights, the draftsman of idle layers from of Japan strolls our ears in the depths a bit darker of his last album with "Escape Velocity". The distance between both titles propels the listener towards a slow and perpetual fall which slips in a horizontal tunnel. Dark but not too much, the music here breathes of this introspective immersion from the series of the same name by Steve Roach, but with a light more sibylline touch that we owe to a strident line, like claws which squeal well in the walls of the descent.
Energized by an oblong wall of hummings, "Sun Shower" is a long journey on back of a drone where we discover a tonal universe of the most charming. Carillons ring as well as waves full of crystal tones retain our perception of well-being and drive it towards seraphic places which are preserved well by less sieved lines from where leak out soft rays from the sun. A very good, powerful and lyric title which is a surprise for an ambient music. Stealing the solar energy from "Sun Shower", "Deeper Skies" is all the opposite of "Escape Velocity" at the sound level, but not at the level of the shape. This long resounding tunnel travels between the slow implosions of its sound waves to the colors of steel blue and others more shadowy. It's like the fusion of two entities which keep their tonal instincts. The same goes for "Autumn Bringer" and its clearly shriller colors. The transition between the acuteness of some synth layers versus those which are darker can make us jump.
The power of the synth's multiple layers which don't stop coupling in order to spread out contrasting shadows and colors which are a challenge to the imagination make of "Light and Shadows" an album of ambient music which accompanies our reveries while maintaining a level of curiosity for music.
Review by Richard Gürtler (September 16, 2018):
Japanese dronescaper virtuoso Jutaro "Juta" Takahashi has released "Light And Shadows" double album quite unexpectedly at the beginning of December 2017 on his own Lunisolar Records. More especially as his previous masterwork "Albion" was dated at the end of April same year and it came after longer hiatus. "Light And Shadows", as Juta's 12th album, seems to be his most ambitious project with its extended scenario. As usual for this soundcarver, the tracks are rather lengthier, three on each CD. Four of these tracks have already appeared on ...txt's compilations "Nagual 3" and "Nagual 4" (both released during 2017 on USB memory sticks). Joni Niemelä, a self-taught fine art nature photographer from Finland gets credit for his immersing "Summer Reds" cover photography.
"Heat Haze", at 16:56 the second longest piece on the set, reveals with mesmerizingly monochromatic densities juxtaposed with balmily engrossing introspective tides, infinetely majestic, while an array of intangibly glimpsing organic subtleties persistently pervade across. Beauty! "Tangerine Blue", one of the two exclusive pieces on this journey, shifts into more graceful, free-gliding horizons, warmly evocative and serenely reverberating, reinforced here and there by sharper yearning meridians and glancing stringed illuminations. Juta Takahashi keeps on serving his identifying aural nectar! So it's no surprising the closing track of first disc, "Escape Velocity", incorporates benignly dissonant, slightly high-pitched patterns, insistently titillating and exquisitely coalesced with rather flatlined drone undercurrents. The unmistakable insignias of its sole protagonist are again in full bloom! Well-done, Juta!!!
"Sun Shower" opens the second CD with spellbindingly monochromous layers, while contemplatively diaphanous tinkles are hanging above in secluded distance and continuously commingle with quietly traversing, yet bouncy motifs. A sonic oasis, where intensely gliding panoptic stratum tightly coexists with exquisitely euphonious nuances. Monolithic warmth at its most sonorous, a true masterpiece!!! "Deeper Skies", the second unreleased track on this set follows the path of warmly evocative panoramas, although slightly calmer and less tenser than its predecessor. But still painted with enough expansive hues with the infusions of softer ear-tickling glimmers. I would say a sort of "inconspicuous" piece during the first exploration, but each additional spin reveals the full magic of this enchantingly reflective composition. Its sinuous structure, especially during the second half with meticulously surreptitious transitions is utterly awesome!!! Certainly another stunner on this ride and a possible magnum opus, bravo, Juta!!! With 17-plus minutes the longest track on the album, "Autumn Bringer" unfolds with gossamer organic trimmings, which are soon joined by poignantly meandering piquant tapestries insistently contrasted with silently engulfing musings. Serene conclusion where autumnal tranquility begins to settle down...
Almost 97 minutes long "Light And Shadows" is undoubtedly another intensely enthralling opus by Juta Takahashi, masterfully gathering released and exclusive compositions into one deeply focused and all-inclusive challenging collection of trademarking soundcarvings. "Light And Shadows" is simply the chef-d'oeuvre, but as always, I strongly recommend to explore the entire discography by Juta Takahashi. Juta's wizardry is tremendously consistent, but that's what this artist, based in Sendai, Miyagi Prefecture, is known for. And by the way, in case you have missed his first three albums released on CDr formats (the next nine albums are all glass mastered), which are out-of-print for very long time, you can now order these albums on USB memory stick. Entitled as "Triad". "Across The Flow", "Remembrance" and "Moonlit Flowers" albums were originally released during 2007 and 2008. "Triad" is housed in a nicely designed tin metal case with a mini card for artwork and liner notes. Each card is serially numbered. Out since May 23rd, 2018, limited to 100 copies.
"Light and Shadows" is currently available as factory-pressed (glassmastered) CD.
You can buy this album from our store, bandcamp,

Store and

.