JUTA TAKAHASHI OFFICIAL WEBSITE
Juta Takahashi: Music for Urban Promenades (LR017)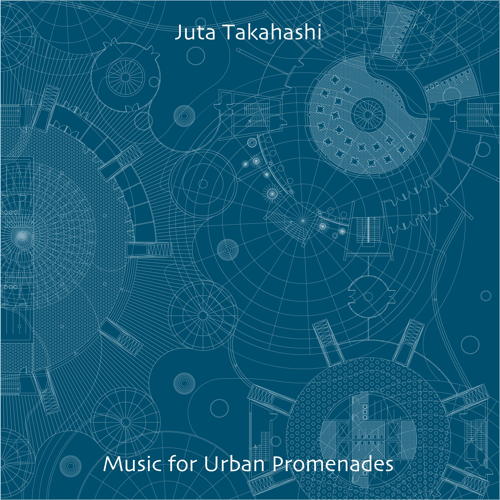 Ambient music for urban promenades consisting of bell sound

The fourteenth album of Juta Takahashi, "Music for Urban Promenades", has been released in August, 2020. The album consists of one long-form ambient track.


1. Music for Urban Promenades (1:1:42)


"When I visited Yokohama, Japan in the early 2010s, I noticed I could intermittently hear a faint bell sound along the promenade of Queen's Square, an indoor shopping mall, at Minato Mirai. The sound out of hidden speakers along the promenade seemed to probably consist of clear rings of bells only, but it was refreshing and got along with the environment. Since I was impressed by the excellent ambience, I had been hoping to create more musical one. The outcome is this album, "Music for Urban Promenades". I produced the music as low-volume one. Please set the playing volume relatively low in accordance with each environment."
- Juta Takahashi
Composed, arranged, produced and performed by Juta Takahashi
Recorded and mastered at Lunisolar Studio, Sendai, Japan
Released on August 5, 2020
"Music for Urban Promenades" has got selected as one of December 2020 Top 10 STAR'S END Releases.

"Music for Urban Promenades" has got selected as one of Monthly Top 20 Albums for April, 2022 at Galactic Travels.
Review by Bert Strolenberg on Sonic Immersion (August 12, 2020):

Taking inspiration from a collage of faint bell sounds heard inside an indoor shopping mall in Yokohama, Juta Takahashi decided to undertake his own environmental approach and create this continuous low volume ambience.

The outcome, the nearly 63-minute "Music for Urban Promenades", is a slow evolving tapestry of lush swirling sounds and dronescapes made with bells, analogue synths and contra bass. I especially like the soft glistening current running through the minimalist, calm (and occasionally even ethereal) aural slumber. It's too "active" though to call it meditative. Still, its mesmerizing, non-intrusive character makes time fade into the background almost unnoticed as the listener submerges into and is surrounded by its gentle, balanced sonic balm.

All in all "Music for Urban Promenades", light and transparent in nature, is something special that also works well in infinite playback mode. I'd recommend it to fans of Eno's longform releases especially.
Review by Sylvain Lupari on Synth&Sequences (November 9, 2020):

"There is a form of life in this album that constantly gives the impression that the moods get too lively"

Everything comes from afar! A climbing wave and faint ringings, it looks like the chirping of locusts with overweight, increase their presence as they reach our earlobes. From that moment, MUSIC FOR URBAN PROMENADES flood our ears with a suspended sound flow, giving free rein to this symphony of bells, tinkles and industrial chirps tinkling, singing and resounding between the fine lines of a bluish fog. During a trip to Yokohama, a city in Japan, in the early 2010s, Juta Takahashi visited an indoor mall in Minato Mirai. During his walk, he noticed a slight sound of bells that came intermittently. The sound of the speakers hidden along the promenade hinted at a mini symphony of clear ringing bells. He thought it got along well with the environment. He even found the experience rewarding. Since being impressed with what he calls an excellent ambiance, the Japanese Steve Roach has been dreaming of replicating something similar. And he believes he achieved it with MUSIC FOR URBAN PROMENADES. And the truth of this fact lies in our attitude towards listening. The album was produced at low volume. It's therefore important, even essential, to listen to it while respecting this scale. Otherwise, you will never be able to connect to this great album. I know it for having tried it ...

The tinkling becomes buzzing, of which the low tones struggle to pierce this wall of crickets which seem to survive fairly well in the underground sidewalks. This long piece of music evolves in a very minimalist state. The arrival of sound drones brings a little musical warmth to this universe of bells where the big ones intervene only in short, well-scattered moments, the Japanese sound sculptor preferring to inject a Tibetan and /or Hindu harmony into this symphony for an underground promenade. There are brief moments of light, a la Michael Stearns, that make us believe that the music is ideal for sleeping. Han Han! There is a form of life in this album that constantly gives the impression that the moods get too lively compared to an ideal source for bedtime. It's also true that industrial chirping can reach peaks of invisible acuity, but present. Despite this, the music is ideal for igniting our imaginations during a session of meditation or cerebral lounging. Our ears manage to cross a bassline creeping harmoniously here and there, giving a fairly Steve Roach appearance during his nightly sessions. These moments give me the chills.

I'm not a fan of Brian Eno, but it remains the best example to describe this ambient symphony but surprisingly melodious with all these various tinkles that manage to play with the stars. Music for Urban Promenades II has just landed on the Net. A beautiful work of creation my dear Juta!
"Music for Urban Promenades" is available as both factory pressed (glass mastered) CD, limited to 100 copies, and digital download.
You can't purchase this album anywhere except our official store and bandcamp. No other music distribution service is available.