JUTA TAKAHASHI OFFICIAL WEBSITE
Juta Takahashi: Music for Urban Promenades II (LR018)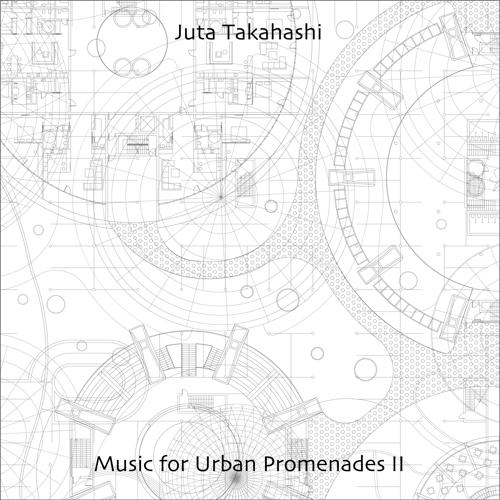 More ambient music for urban promenades consisting of bell sound

The fifteenth album of Juta Takahashi, "Music for Urban Promenades II", has been released in October, 2020. The album consists of one long-form ambient track.


1. Music for Urban Promenades II (1:3:32)


"When I visited Yokohama, Japan in the early 2010s, I noticed I could intermittently hear a faint bell sound along the promenade of Queen's Square, an indoor shopping mall, at Minato Mirai. The sound out of hidden speakers along the promenade seemed to probably consist of clear rings of bells only, but it was refreshing and got along with the environment. Since I was impressed by the excellent ambience, I had been hoping to create more musical one. The outcome is the "Music for Urban Promenades" series. I produced the music as low-volume one. Please set the playing volume relatively low in accordance with each environment."
- Juta Takahashi
Composed, arranged, produced and performed by Juta Takahashi
Recorded and mastered at Lunisolar Studio, Sendai, Japan
Released on October 21, 2020
"Music for Urban Promenades II" has got selected as one of December 2020 Top 10 STAR'S END Releases.
"Music for Urban Promenades II" has got selected as one of Monthly Top 20 Albums for December, 2020 and for April, 2022 at Galactic Travels.
Review by Bert Strolenberg on Sonic Immersion (December 13, 2020):

This is a second volume of continuous low volume ambient environs inspired by a collage of faint bell sounds heard inside an indoor shopping mall in Yokohama. Next to some acoustic piano and synths, Juta mainly applied Tibetan Singing Bowls among other bells of which the sounds were treated with pitch shifting, reversed echo and other techniques. The longform track, audio resolution 16bit/44.1kHz, is a serene gliding tapestry of sounds and fluid textures evolving gradually with profound resonating impact.

Same as its predecessor you could think of it as a kind of stress-relief and uplifting music to balance yet sooth the mind most comfortably.
Review by Sylvain Lupari on Synth&Sequences (April 16, 2021):

"This is one of the very good albums from Juta Takahashi"

A little more and I would have missed this album of Juta Takahashi! Identical artworks, almost identical time length. MUSIC FOR URBAN PROMENADES 2 has slipped into the pile; reviewed CD, since I thought there was just one volume. It's when I wanted to listen to Seabound that I realized that there were two volumes to this Music for Urban Promenades series. The difference? Well, is huge!

No need to wait for long minutes before being connected to this concert of church bells, urban bells and different tinklings that suspend time. After a short rise of a synth wave, Music for Urban Promenades II offers this concert of bells, chimes and ding-dongs, very discreet in Music for Urban Promenades, with a sound impact that is surprising considering the slow symphonies of serenity of the Japanese musician-composer. And this concert my friends is quite an event with the big church bells and their harmonious chimes echoing and merging into a resonant pile of sounds. The synth is discreet with scattered bursts that divert our fixation on this concert where the buzzing echoes of bells and bells end up creating a minimalist symphony. The iridescent rays of the reverberating echoes end up creating the illusion of a melody sculpted through these reverberating zones. It's like a celebration of freedom. The victory over the fear of loneliness! I'm not sure, but Music for Urban Promenades II is far from being a long, monotonous thing. This river of tinkling and buzzing is illuminated by Juta's very judicious choices in his arrangements and his huge collages of bells' samples and chimes. He is the ringer who knows how to illuminate that inner light that is always (have you noticed?) fascinated, if not obsessed, by the songs of the bell towers of a village or a big city whose ambient hubbub too often hides these anagogic lyrical odes.

According to my point of view; MUSIC FOR URBAN PROMENADES 2 is one of the very good albums from Juta Takahashi. The way he illuminates this long spiritual panorama is both bold and surprisingly calm. The melody of the bells overshadows any return to heavy and gloomy ambiences; the bread and butter of my friend Juta...
"Music for Urban Promenades II" is available as both factory pressed (glass mastered) CD, limited to 100 copies, and digital download.
You can't purchase this album anywhere except our official store and bandcamp. No other music distribution service is available.