JUTA TAKAHASHI OFFICIAL WEBSITE
Juta Takahashi: Quiet Rain (LR010)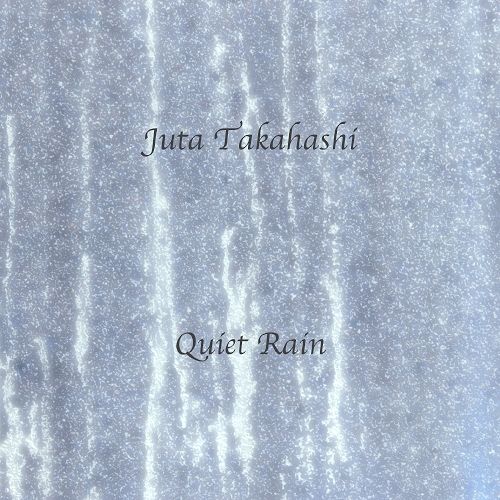 Beautiful, silent and tonal ambient music by analog synthesizers, flavored with Mellotron and acoustic piano. 
The sixth album of Juta Takahashi contains following four tunes. 
1. Dawn (15:20) 
A new day silently breaks and is filled with light. 
2. Monochrome Sorrow (15:20) 
A lament. 
3. Quiet Rain (15:10) 
Gentle rain at night. 
4. The Azure Dragon (15:18) 
The azure dragon flies up sky-high in an evening of springtime.
This work is dedicated to Yoshinao Abe (1952-2009).
Originally released on June 30, 2009 and remastered in 2012. 
Review by Bert Strolenberg at Sonic Immersion (July 7, 2009): 
Juta Takahashi's sixth album "Quiet Rain" brings four 15-minute free form pieces of solace and contemplation, nicely sculptured out of warm analogue sounds, mellotron and some acoustic piano. 
Its great, at times even minimal, music to take a break from it all, as the slow washes of strings gently float by, painting unhurried spaces to reflect in. 
A highlight is the saddening "Monochrome Sorrow" or the meandering textures and light piano notes of the title track, although I can imagine some might like to see some more musical progression here and there. 
I just wished Juta could just take the next step to smoothen and further valvenize his heartfelt soundscape tapestries (hopefully avoiding getting into the new-age trap), as there's still a certain roughness shimmering through the sound spectrum. 
All in all, "Quiet Rain" offers silent ambient music to ease the mind. 
Review by Richard Gürtler (November 29, 2012):

"Quiet Rain" was originally released as CDr version back in 2009 as 6th album by Japanese ambient composer Juta Takahashi, now it returns freshly remastered and released at the beginning of October 2012 as pressed CD on his own Lunisolar Records. I must say I wasn't familiar with the original album, so it was a very nice surprise when "Quiet Rain" has reached my ears. By utilizing analog synthesizers, with Mellotron and acoustic piano, Juta Takahashi has again shaped his album with 4 longer compositions, each clocking just over 15 minutes. "Dawn" unveils with peacefully meandering washes evoking the recall of long-forgotten memories. It's richly emotional and intimate piece with rather amorphous movements. The next composition, "Monochrome Sorrow", drifts within its tranquil realms, but this time having stronger aerial feel, again gliding quite monotonous with interferences of high-pitched intensity. However, these interactions sound hauntingly harmonious and create strong trancelike atmosphere. With title composition "Quiet Rain" Juta Takahashi masterfully immerses each listener deeply into utterly sublime soundscapes sculpted with heavenly choir-like drones, gorgeously fragile piano and soothing rainy sounds. Just imagine sitting under a shelter in a remote forested area and enjoying a quiet misty summer night with pleasantly refreshing natural rhythms of a quiet rain. A haven for everyone tired of the hectic pace of city life. Outdoor gathering at its most captivating, Juta's soundsculpting has never sounded more relaxing and tranquil, bravo maestro!!! It immediately became one of my most fave pieces by Juta Takahashi. The closing track, "The Azure Dragon", moves from state of calm and relaxation into more massive dronewalls, flavored with various sonic dissonances and soaring smoothly through elevated passages, from static and contemplative to more glimmering and intense. "Quiet Rain" is another richly crafted sonic statement by Juta Takahashi, as usual, magnificently balanced and both, powerfully absorbing and profoundly rewarding!!! "Quiet Rain" enters deep into the hope, the sorrow and the pleasure. It gets my highest recommendation for fans of sublime and comforting soundscapes.

Review by Sylvain Lupari at Synth&Sequences (December 2, 2012):

"Quiet Rain is weave with such a sensibility that we would believe that Juta Takahashi composes his astral poetry on the walls of our dreams"

A tear of cello is sighing in the quiet breezes which flood our ears and which open the very meditative "Dawn". Between the sadness of buried memories and the hope of better days, "Dawn" is the dawn of a life that is renewed in the ashes of our past. It's very beautiful, very morphic and very intense. Like an artist painting with grief the colors of a bitter night of life which is pouring in the tranquillity of the multiple faces of dawn, Juta Takahashi uses all the primary colors of his analog synths and his somber Mellotron to draw rainbows of melancholy which melt in the ears. The synth layers are crying there, rocked by the heavy waves of a wrapping Mellotron which scatters its intense clouds of mists on a soothing musical painting which inspires the most total self-abnegation. Initially released in 2009 (in a CD-r format) "Quiet Rain (Remastered)" is bringing us back into the very meditative universe of Juta Takahashi with 4 long titles of about fifteen minutes which exploit marvellously all the nuances of the serenity.
"Monochrome Sorrow" is a long astral lament with its layers very iridescent and its hollow breaths which glide as a long quiet river in search of its tributaries. The movement is slow and heavy, as well as very meditative. The nuances within are subtle, while its only movements are its underlying lines which go away to form lineal melodies in search of a captive ear. We are in front of nothingness, copulating with our emotions forbidden of stay. These hollow winds are awaking the intro of the title-track where fine rainy drops fall in the scattered notes of a wandering piano. Immensely introspective, "Quiet Rain" floats as a thick cloud of dreams lost in the fogs of the spring mornings when the rain and the dew are forming the accomplices of our wonder. "The Azure Dragon" borrows another tangent with more scarlet tones. Always very quiet the title is carried by massifs buzzing which derive in a void of astral odes, collecting in his vampiric immobilism strata fines and sharpened which hum of a slightly hatched tone. Here, as all over "Quiet Rain (Remastered)", the wealth of the musical textures is intensely palpable, multiplying by 10 a stunning ambio-spherical musicality which transcends the simple relaxation music.
Faithful to his very meditative style, Juta Takahashi delivers an album without faults. An album which is a haven of an inner peace for those who want to escape the pressure of a world which goes sometimes too fast so that we can appreciate its beauties. From the first breaths of "Dawn" we are absorbed by this mesmerizing intimist and intuitive music which lights our memories and calms its torments with such a sensibility that we would believe that the Japanese synthesist composes his astral poetry on the walls of our dreams. If it's true that ambient music often turns around on its grooves, it's also true that some artists always manage to affix on it a unique signature. Juta Takahashi is among them and "Quiet Rain (Remastered)" is his signature, quite as Hymn, Silence…

Customer Review (by Eric J. Smith) at Amazon.com (January 3, 2014):

Wonderful Ambient

How does one describe ambient? It is a good balance of texture, tone, mood, and subtlety. I listen to it regularly and find it very enjoyable and suitable for either rest or concentration.
Customer Review (by M. J Roberti) at Amazon.com (September 14, 2014):
 
Five Stars
 
Awesome ambient space music. Period. I mean, seriously. You can't go wrong.

"Quiet Rain" is currently available as factory-pressed (glassmastered) CD which consists of remastered tracks.
Original release (LR006): CD-R (officially sold out)
Reissue (LR010): CD-DA (available)
You can buy this album from our store, bandcamp,

Store and

.